Balsamic Vinaigrette made with fresh herbs and tangy Dijon mustard is lovely drizzled over green salads or grilled meats. We love this vinaigrette all year long and keep a jar in the fridge.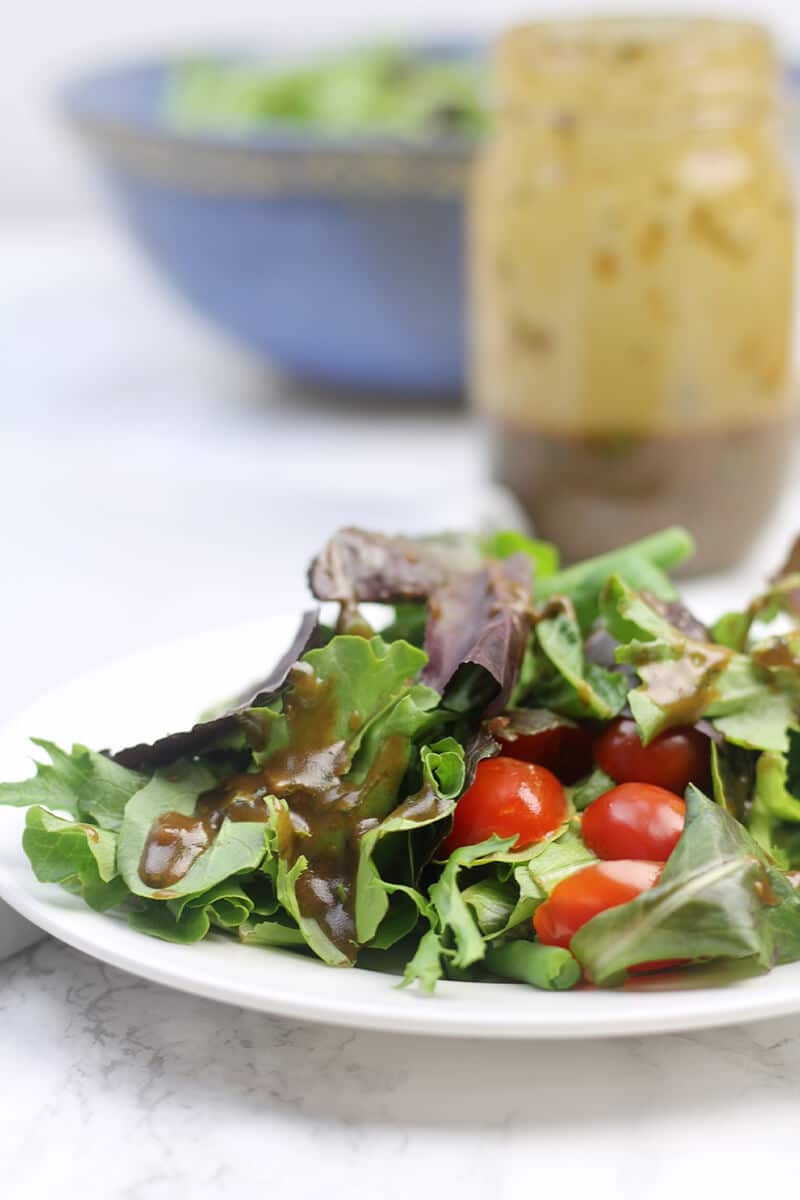 What's your favorite salad dressing? When I was a kid, I loved Thousand Island dressing, French dressing (the orange kind that doesn't resemble anything French!) and Catalina. As I got older, I learned to like Ranch dressing and then Italian vinaigrette and now I pretty much only eat vinaigrettes.
My favorite is my easy Lemon Vinaigrette, which is a true French dressing recipe that was shared from an old-school French lady who lives in a castle. True story.
And I love this Balsamic Vinaigrette recipe! It's made with chopped fresh herbs and tangy Dijon mustard, and it's bold and flavorful. We like this dressing best over simple green salads, but it also makes a nice finishing drizzle over grilled meats, like steak or chicken.
This recipe has been in my collection for many years and came from an old Bon Appetit magazine. It's one of those enduring recipes that needs no changes but lends itself to tweaks depending on what you're serving.
Balsamic Vinaigrette Recipe
I like to use fresh basil, tarragon, and thyme in this balsamic vinaigrette recipe, but you could mix and match with different herbs: parsley, oregano, maybe a little rosemary or savory. There are endless possibilities! Throw in a little minced shallot and that's all the chopping you have to do.
You want to make sure that you use a high quality balsamic vinegar for this recipe as that makes the biggest difference in flavor. I use the Kirkland brand from Costco because it's imported from Italy and has excellent balance of acidity and body. Also, be sure you use a high quality extra-virgin olive oil, which you should always do when making a vinaigrette.
Be sure you check out my Green Salad with Arugula and Fresh Herbs, as it would be a perfect salad for this balsamic vinaigrette!
Ingredients
3

tablespoon

balsamic vinegar

1

teaspoon

sugar

1 ½

tablespoon

minced shallot

1

tablespoon

Dijon mustard

1

tablespoon

minced fresh basil or other herb

1

tablespoon

minced fresh tarragon or other herb

1

tablespoon

minced fresh thyme or other herb

½

cup

extra-virgin olive oil

Salt and pepper to taste
Instructions
Combine vinegar and sugar in a shaker and shake until blended. Add Dijon mustard, herbs, and a little salt and pepper, and shake until well blended. Gradually pour in olive oil and shake until well blended. Taste and season with additional salt and pepper as needed.
Notes
Will keep in the refrigerator for up to 3 days.
Recipe adapted from Bon Appetit, 2002.
Click here to save this recipe to your Pinterest board!
Nutrition
Serving:
4
servings
Calories:
261
kcal
Carbohydrates:
4
g
Saturated Fat:
3
g
Sodium:
46
mg
Sugar:
3
g