Strawberry shortcake recipe with easy, homemade biscuits using cream and brown sugar. You can have this beautiful dessert ready in a jiffy and it's a great make ahead dish as well!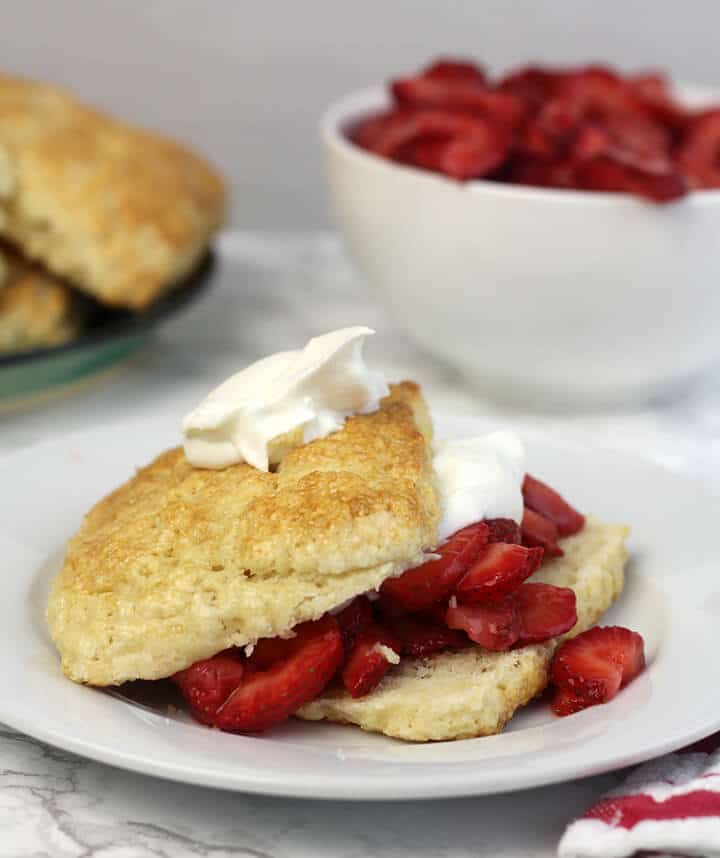 I like to make strawberry shortcake the same way I make biscuits, with just a few slight changes. I use cream instead of buttermilk and add a touch of brown sugar, granulated sugar, and vanilla.
These strawberry shortcake biscuits turn out light and fluffy with just a hint of sweetness, the perfect balance for your favorite summer fruit, whether it's strawberries, blackberries, blueberries, or peaches.
How to make strawberry shortcake
Step 1. Start with fresh sliced strawberries and add a little sugar. If they're summer strawberries they won't need a lot of sugar, maybe 1/4 cup.
Stir in the sugar and let the strawberries rest while you make the shortcakes. The sugar will macerate the berries and draw out the juices.
Step 2. Sift together flour, baking powder, salt, and sugars into a large bowl. Cut the butter into small pieces and incorporate into flour using your hands or a pastry cutter.
Flour and butter mix should resemble small pebbles.
Step 3. Pour in cream and vanilla and stir everything together until the dough is wet, then keep stirring to catch most of the rest of the flour in the bowl. You will have a stiff dough initially.
Step 4. Turn the dough onto a floured surface, dip your hands in flour and knead the dough gently until it smooths and comes together nicely. This should take 30-45 seconds.
Don't knead too much or you'll have hockey pucks instead of shortcakes.
Step 5. Gently pat the dough into a rectangle about 3/4 to an inch thick and cut into 2×2 squares. Of course, you can make your strawberry shortcakes bigger, but I like the 2×2…perfect if you're trying not to overdo on sweets and if someone wants bigger they can always have two.
Step 6. Place the squares on a parchment paper lined cookie sheet, leaving just a little space between each one. Brush the tops with beaten egg and sprinkle with turbinado sugar.
Step 7. Bake for about 10 minutes, until golden brown. Allow to cool on cookie sheet for one minute then remove to wire racks and cool completely. You can also serve warm if you like but they might fall apart a little when you slice them.
Tip: The biscuits should be nice and fluffy and golden brown on top.
Put it all together: Slice the shortcakes and place bottom half in dish. Cover with a scoop of vanilla ice cream or homemade whipped cream and a generous helping of strawberries.
Place top half of shortcake over the strawberries and finish with more whipped cream. Enjoy!
Tips for strawberry shortcake
You can make these shortcakes a day or two before serving and store in an airtight container.
Strawberry shortcake will freeze perfectly: lay the baked or unbaked biscuits out on a baking sheet and freeze overnight. Transfer to a freezer bag or container.
If unbaked, allow to thaw before baking and follow instructions above.
Helpful tools
Baking sheets – I have several of these baking sheets and use them for so many things! Roasting meat or vegetables, cookies, cakes, the list is endless!
Turbinado sugar – keep a container of this for lightly sweetening different items
Parchment paper – another kitchen workhorse that you can use for so many things!
Some folks prefer angel food cake for strawberry shortcake, so if that's you here's a recipe for Angel Food Cake.
Strawberry Shortcake
Lightly sweetened cream biscuits topped with strawberries, whipped cream and vanilla ice cream…heaven on a plate.
Ingredients
Shortcakes
4

cups

all-purpose flour

2

tablespoons

baking powder

2

teaspoons

salt

2

tablespoons

brown sugar

¼

cup

granulated sugar

1 ½

sticks unsalted butter, cold

2

cups

heavy cream

2

tablespoons

vanilla

1

egg for egg wash

Turbinado sugar for sprinkling
Strawberries
3

cups

chopped fresh or frozen strawberries (thawed if using frozen)

¼

cup

granulated sugar (or to taste)
Instructions
Strawberries
Stir sugar and strawberries together and set aside to macerate while making shortcakes.
Shortcakes
Preheat oven to 450. Sift together flour, baking powder, salt and sugars. Cut butter into small pieces and incorporate into flour using your hands or a pastry cutter. Flour and butter mix should resemble small pebbles.

Stir in cream and vanilla until dough is wet. Continue stirring to get most of the flour incorporated. Turn dough onto floured surface.

Dip hands in flour and sprinkle just enough on dough to be able to knead it for about 30 seconds. Pat dough into rectangle that is about 3/4 to an inch thick. Using sharp knife, cut into 2×2 squares.

Place on parchment lined cookie sheet leaving a little space in between. Brush tops with egg wash and sprinkle raw Turbinado sugar on each one. Bake for about 10 minutes, until golden brown. Cool for one minute on cookie sheet, then remove to wire rack and cool completely.

To serve, slice biscuit in half. Place bottom in bowl and layer with a scoop or two of vanilla ice cream, then strawberries, then top half of biscuit, then whipped cream.
Nutrition
Serving:
12
servings
,
Calories:
434
kcal
,
Carbohydrates:
42
g
,
Protein:
5
g
,
Saturated Fat:
17
g
,
Cholesterol:
100
mg
,
Sodium:
31
mg
,
Fiber:
1
g
,
Sugar:
8
g
Update Notes: This post was originally published July 3, 2013, and on July 14, 2020, was updated with one or more of the following: step-by-step photos, video, updated recipe, new tips.
More strawberry recipes: