Homemade BBQ Sauce is tangy, sweet, and so easy to make you'll never buy store-bought sauce again! This Southern BBQ sauce recipe makes the best sauce using pantry staples you probably already have, and it's ready in about half an hour.
And the best part? This homemade sauce is much cheaper than any grocery store version. In addition, there's no high-fructose corn syrup and no preservatives, and you have total control over the sodium level.
If you like to make your own sauces, please be sure and try our Comeback Sauce and our Spicy BBQ Sauce – both are made with just a handful of ingredients and are great sauces to keep in your fridge.
Making this barbecue sauce couldn't be easier. Measure a few seasonings, some ketchup, and vinegar, add a bit of stirring, and you'll have a versatile sauce that's ready to bring the wow factor to your meal.
Whether you're a seasoned cook or just starting out in the kitchen, this amazing homemade BBQ sauce recipe is a winner you'll find yourself reaching for again and again.
The sweet flavors and a little heat make this the best bbq sauce recipe we've ever made. The first time you try this easy recipe, you'll be ready to toss all your old store-bought barbecue sauce!
Ingredients and tools needed
Scroll down for a printable recipe card with full ingredient amounts and detailed instructions.
Ketchup – you can use any brand, but I only use Heinz for everything.
Apple cider vinegar – just enough to add some complexity to the sauce
Granulated sugar – a little white sugar
Brown sugar – adds the perfect balance to the spiciness
Butter – helps to blend the sauce and give it a little richness
Yellow mustard – use regular prepared mustard
Onion powder – flavor boost
Garlic powder – easy to add even more flavor
Smoked paprika – use good quality smoked paprika, not regular
Hot sauce – you can adjust this to suit your tastes
Fresh lemon juice – fresh is always best
Cayenne pepper – just a touch for some heat
Molasses or honey – adds sweetness and helps to thicken the sauce a bit
Worcestershire sauce – my favorite is this one
Soy sauce – use low sodium
Salt and pepper
Basting brush
Medium saucepan
To check out all my kitchen and travel favorites, visit my Amazon Shop.
Substitutions
You can use two scant teaspoons of dry mustard powder instead of the prepared yellow mustard.
Substitute honey or maple syrup for the molasses to bring a different sweetness.
If you prefer a spicier sauce, add more cayenne pepper and/or hot sauce. You could also add some red pepper flakes.
For a less sweet sauce, reduce the amount of brown sugar.
Some people like to add liquid smoke. (I think it tastes artificial, so I don't.)
Pin this now to save it for later
How to make homemade bbq sauce
I love that this easy homemade BBQ sauce doesn't require any chopping–no onions or garlic!
Measure out all the ingredients and combine them in a saucepan.
Bring the sauce to a boil over medium heat and then simmer on medium-low heat for 20-30 minutes.
Allow sauce to cool and then pour into container.
Stir frequently so the sauce does not stick to the pan.
FAQs for homemade bbq sauce
How do you store homemade BBQ sauce?

Once cool, store your homemade BBQ sauce in a sealed container in the refrigerator. I like to use a regular mason jar, but any airtight container will do.
Can you freeze BBQ sauce?
Yes, you can freeze it. Just leave some room at the top of the container for expansion.
How long does homemade BBQ sauce last?
It should last up to two weeks in the refrigerator when stored properly.
Does the sauce taste like ketchup?
While ketchup is a primary ingredient, the finished sauce has a unique taste all its own. The added spices and flavors create a deeper and more complex flavor profile.
Can you make the sauce in the slow cooker?
Yes, but why would you? It's so quick and easy on the stovetop.
Serving suggestions
Homemade BBQ sauce is perfect on any meat, from chicken and beef to pork and even hearty fish like salmon. We love to serve it with our pulled pork or shredded chicken. It's also the perfect sauce for chicken wings. And this recipe makes an excellent basting sauce while you're grilling meat to help keep the meat moist.
Homemade BBQ Sauce
Homemade BBQ Sauce is tangy, sweet, and so easy to make you'll never buy store-bought sauce again!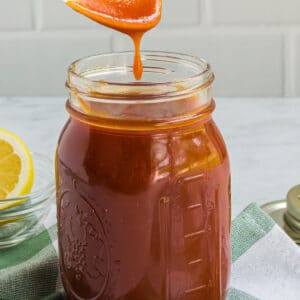 Ingredients
3

cups

ketchup

1

cup

water

¼

cup

apple cider vinegar

¼

cup

granulated sugar

1

cup

brown sugar

6

tablespoons

butter

2

tablespoons

prepared yellow mustard

1

tablespoon

onion powder

1

tablespoon

garlic powder

2

teaspoons

smoked paprika (pimentón)

½

teaspoon

cayenne pepper

1

tablespoon

hot pepper sauce, (I like Frank's)

1

tablespoon

fresh lemon juice

¼

cup

molasses

2

tablespoons

Worcestershire sauce

1

tablespoon

soy sauce

1

teaspoon

salt

1

teaspoon

freshly ground black pepper
Instructions
Stir all ingredients together in a sauce pan and bring to a boil.

Turn heat to medium-low and simmer for 20-30 minutes.

Store in refrigerator up to two weeks.
Nutrition
Serving:
10
servings
,
Calories:
295
kcal
,
Carbohydrates:
55
g
,
Protein:
2
g
,
Saturated Fat:
4
g
,
Cholesterol:
19
mg
,
Sodium:
894
mg
,
Sugar:
49
g
UPDATE NOTES: This post was originally published April 10, 2012, and on May 22, 2023, was updated with one or more of the following: step-by-step photos, video, updated recipe, new tips.