We are a barbecue loving family. If there's a barbecue place anywhere in the state of Georgia with a halfway decent reputation, one of us has probably eaten there at some point. So, it stands to reason that we would cook barbecue at home a lot too. Pulled pork is our mainstay meal for Christmas when David's family comes over. We used to redo the whole turkey/ham/all the fixins' scenario, but one year we all decided we were tired of that. Once you get married and have to go to in-laws' homes for Thanksgiving, and maybe another in-laws' house, or friends, or church, well, a person can only eat so much turkey and dressing no matter how much you love it. So for us, barbecue is the perfect Christmas meal.
Now, beins as (that's Southern for since—why use one word if you can use two) it's summertime and the peaches are ripe, abundant, and amazing, I thought a twist on barbecue sauce was in order. I've had peach barbecue sauce before, but it can quickly get too sweet, so naturally you need to add some heat. Mine came in the form of jalapeno and bourbon, hence the name Peach Bourbon Barbecue Sauce.
We love this sauce. We've been trying to think of different things to slather it on. So far all we've had is chicken, but I'm thinking some pork meatballs would be good and so would grilled salmon. Let me know what you try the sauce on!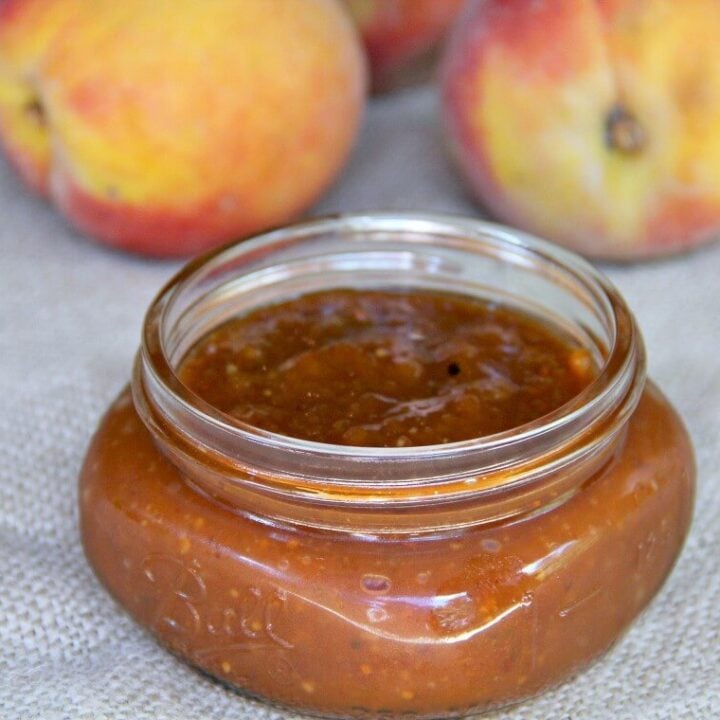 Peach Bourbon Barbecue Sauce
Total Time:
1 hour
10 minutes
A tangy, sweet sauce filled with fresh peaches, jalapeno, and just a touch of bourbon. A little heat with a little sweet.
Ingredients
4 large peaches, (enough to make 2 cups pureed)
1 cup chopped Vidalia onion
2 finely chopped jalapeno peppers, (remove seeds unless you want a lot of heat)
2 cloves finely minced garlic
1 tablespoon olive oil
1 cup ketchup
1/3 cup apple cider vinegar
1/4 cup good quality bourbon
2 tablespoons Dijon mustard
1/4 cup molasses
1 cup dark brown sugar
1 tablespoon fresh lemon juice
2 tablespoons Worcestershire sauce
1/2 teaspoon chili powder
1/4 teaspoon ground ginger
1/8 teaspoon ground cloves
1/8 teaspoon dry mustard
1/2 teaspoon kosher salt
freshly ground black pepper
Instructions
Peel and coarsely chop peaches then puree in a blender.
In large heavy saucepan, saute onion, jalapeno, and garlic in olive oil until softened. Add peach puree and remaining ingredients. Stir until well mixed and bring to a boil.
Turn down to simmer and cook uncovered, stirring occasionally, for about 30 minutes.
Notes
Sauce keeps in the refrigerator for a few days.
Nutrition Information:
Yield:

10
Serving Size:

10 servings
Amount Per Serving:
Calories:

202
Sodium:

414mg
Carbohydrates:

43g
Fiber:

1g
Sugar:

40g
Protein:

1g
Nutrition counts are provided as estimates only. Southern Food and Fun makes no guarantee as to the accuracy of these nutritional values as ingredients and serving sizes may vary from person to person.