So simple but so tasty, this Parmesan Roasted Asparagus will have your people coming back for more and more! You just roast the asparagus on a baking sheet then add a little grated parmesan cheese. The whole thing takes less than 20 minutes and you have a perfect side dish.
If you don't like asparagus then you have to try this recipe. It just might convert you! And I know what you're thinking. If you've lived this long without liking asparagus, why do you NEED to be converted? Well, I'll tell you why.
Because asparagus is good for you! It is full of vitamins and nutrients and fiber and folate and many other unpronounceable things. You can read more about it on eatingwell.com.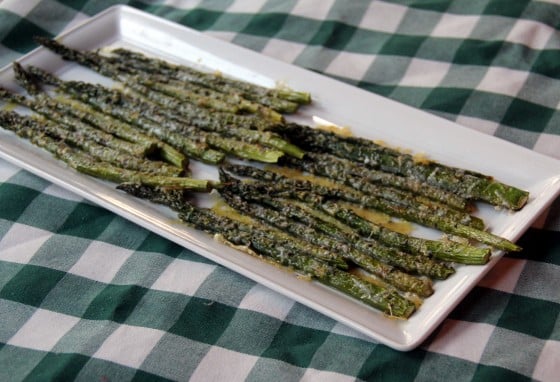 Here's another reason to like asparagus: it means spring is here. Asparagus is in season in spring and starts showing up in farmer's markets and grocery stores with a reasonable price point.
And here's the thing: you may not have liked asparagus when you were a kid, because maybe your mom only made it from the can and it was a soggy mess. Although truth be told, I like asparagus straight from the can. But regardless, back to your mom. She was probably a fabulous cook.
You may also like...
Grilled Prosciutto Wrapped Asparagus - salty and crispy, this asparagus hits all the notes!
But perhaps she made creamed asparagus and poured it over toast or something like that. And your six-year-old self saw that and got it into your head that you would never voluntarily eat that stuff.
This is not that asparagus. There's no slime. No toast. No cream. Just you and the green stalk and a little Parmesan cheese. And you don't have anything against Parmesan cheese, right?
Trust me, you need to roast your asparagus. Don't steam it or boil it or do any of those other things to it. Just roast it or even better, grill it. You will not be sorry.
Recipe adapted from Ina Garten's Parmesan Roasted Asparagus in Barefoot Contessa Family Style cookbook. You need this cookbook in your life.
If you've tried this recipe, please rate the recipe and leave a comment below!

You can also follow me on Facebook, Twitter, Instagram, and Pinterest.

And please join the Southern Food and Fun Facebook group to get all the Southern Food and Fun recipes.
Ingredients
1

lb

Asparagus

1

tablespoon

Olive oil

1

teaspoon

Salt

1

teaspoon

Pepper

2

tablespoon

Grated Parmesan Cheese
Instructions
Preheat oven to 400. Line a baking sheet with parchment paper.

Wash and dry asparagus. Break tough ends off asparagus. Place asparagus on prepared baking sheet and drizzle with olive oil. Sprinkle asparagus with salt and pepper.

Roast for about 15 minutes, until asparagus is starting to brown just a little. Sprinkle grated Parmesan cheese on asparagus and return to oven for one minute.

Serve with lemon wedges.
Notes
Adapted from Barefoot Contessa Family Style cookbook.
Nutrition
Serving:
4
servings
|
Calories:
65
kcal
|
Carbohydrates:
4
g
|
Protein:
3
g
|
Cholesterol:
2
mg
|
Sodium:
622
mg
|
Fiber:
2
g
|
Sugar:
2
g