Cream of mushroom pork chops are ready in about 45 minutes! This is a quick and easy, flavorful weeknight dinner recipe that goes great with mashed potatoes or rice!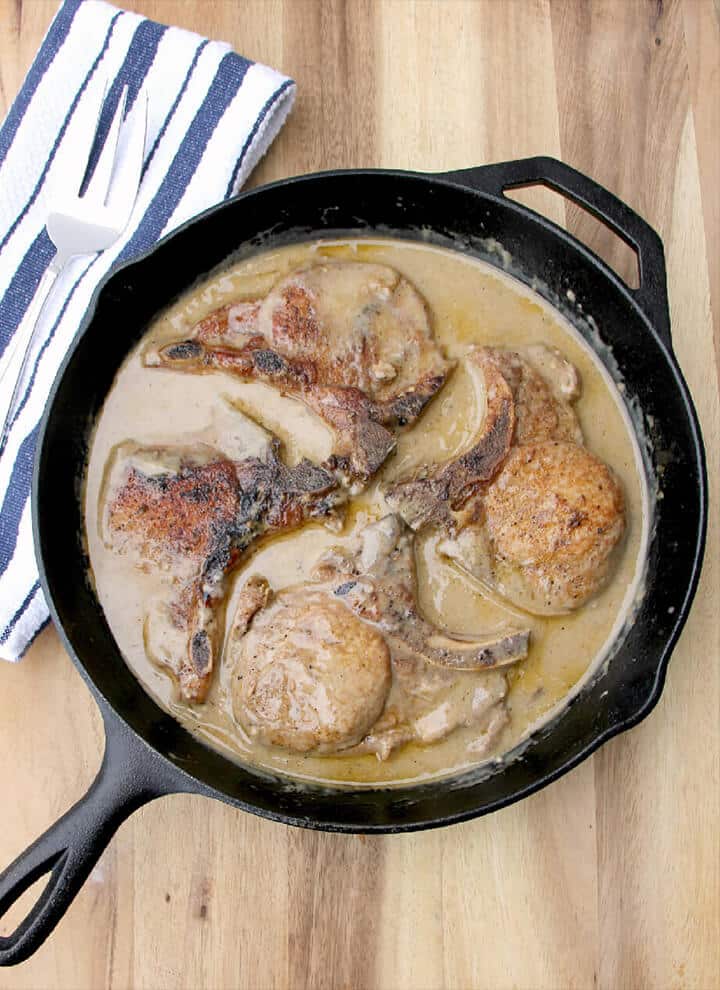 Quick and easy weeknight dinner ideas can be one of a busy parent's worst frustrations, which is why meal planning is so important!
And why I love this recipe for Cream of Mushroom Pork Chops!
What can you put together that tastes good, isn't fried, didn't come from a fast-food place, doesn't break the bank and doesn't require you to stand over the stove stirring for an hour?
Because let's be real—everyone wants to feed their kids good food, but no one has time to get home from work and spend two hours in the kitchen cooking dinner.
It's just not happening!
Make ahead meal
One quick and easy meal is baked pork chops with cream of mushroom soup, with either rice or mashed potatoes (or mac and cheese from the blue box, which was always a favorite in my house) and some type of vegetable like roasted green beans and tomatoes.
And if you have a little extra time in the morning—I know, sounds crazy—but just in case you do, this dish is perfect for a make ahead meal.
Just put the whole thing together, pop it in the refrigerator and then bake when you get home. Easy!
You may also like…
Cider-Brined Pork Roast – a favorite recipe that you can make ahead and freeze some for later!
Helpful tools and ingredients
You really only need a good oven-proof skillet like this one, and you can even make do without one but you'll just have to use an extra dish. But seriously—if you don't have a good cast iron skillet then do yourself a favor and order one right now!
I use my skillet all the time, much more so than my stainless cookware. It's pretty much non-stick and is the best way to get a good sear on any meat.
Bone-in pork chops, 1/2-inch thick
Cajun seasoning—I like Tony's
Canola oil
Cream of Mushroom soup
Water
Worcestershire sauce
Minced garlic
Butter
Why this recipe works
It's a simple and quick dinner recipe that even beginner cooks can master.
The pork chops can be made one or two days ahead and just reheated when needed.
The clean-up is easy because you're only using an oven-proof skillet or a baking dish!
Top tips
Sear the pork chops to brown before you bake them. You'll get a slightly crispier pork chop with a nice touch of color.
Don't use low-fat cream of mushroom soup. The extra fat in the regular soup gives the gravy the best flavor.
Always preheat the oven so it's nice and hot before you put the pork chops in.
How to make cream of mushroom pork chops
Step 1. Preheat the oven to 375°. In a large oven-proof skillet, brown the pork chops on both sides.
Browning adds a little more flavor to the chops and the sauce. And if you use an oven-proof skillet then everything can be done in one dish!
**Cook's Tip: Anytime you're making a baked pork chop recipe, it's best if you take a few minutes to sear and brown the pork chops first, but not absolutely necessary if you're pressed for time.
If not browning then start with up to six bone-in pork chops and spread them out in a lightly greased 9×13 dish or a skillet.
Step 2. Next, sprinkle on pepper and a little Tony's seasoning, or whatever seasoning you like to use.
**Cook's Tip: I like Tony's because it adds some spice and a tad of heat but is not overpowering.
Step 4. Empty one can of cream of mushroom soup into a mixing bowl and add one-half a can of water. The pork chops with cream of mushroom soup will have a nice, creamy gravy-like sauce that's flavored from the Cajun seasoning.
Step 5. Stir in one tablespoon Worcestershire sauce and a couple of cloves of minced garlic. This is going to give your cream of mushroom pork chops the best flavor!
**Cook's Tip: Whisk this together to break up the soup as best you can but don't worry too much as it will break down while cooking.
Step 6. Pour the sauce over the chops and add a tablespoon of unsalted butter—because BUTTER, duh!—cut to have a little dollop on top of each pork chop.
Step 7. Cover the dish or skillet tightly with tin foil and place in the oven for about thirty minutes—twenty if you browned the chops first.
Step 8. Remove the foil and bake another 15-20 minutes.
**Cook's Tip: If you're using more pork chops and they overlap, then you'll need to move them around during baking so the ones on the bottom end up on the top.
Serving suggestions
I like to serve these cream of mushroom pork chops with caramelized onions and cheese grits. You could also just add a simple green salad or green beans.
And of course, if you want a delicious and easy dessert, you can't go wrong with this Fudge Pie—ready in less than an hour!
Extra tips for the best cream of mushroom pork chops
This is a great make-ahead dish also—you could make it on Sunday and serve it Monday or Tuesday if that's a busy night in your household. Make-Ahead Freezer Meals are essential for any busy parent!
Baked Pork Chops with Cream of Mushroom Soup
Baked pork chops with cream of mushroom soup—a quick and easy weeknight dinner recipe that goes great with mashed potatoes or rice!
Ingredients
4

bone-in pork chops, 1/2-1-inch thick

1

tablespoon

Cajun seasoning

2

tablespoons

canola oil

1

can Cream of Mushroom soup

½

soup can water

1

tablespoon

Worcestershire sauce

2

cloves

minced garlic

1

tablespoon

unsalted butter
Instructions
Preheat oven to 375.

Sprinkle Cajun seasoning evenly over each chop.

In a medium mixing bowl, stir together soup, water, Worcestershire sauce and garlic.

Heat oil in oven-proof skillet on medium-high. Brown pork chops on both sides and pour off any excess oil.

Pour sauce over chops and add the tablespoon of butter, a little dot on top of each chop.

Cover skillet tightly with foil.

Bake covered for 30 minutes, then remove foil, turn the chops over and stir the sauce slightly.

Bake uncovered for another 10-15 minutes or until done.
Notes
Tips for Baked Pork Chops:
Preheat the oven so it's nice and hot.
Sear the pork chops to get a little crispiness and color.
Don't use low-fat cream of mushroom soup. The fat adds flavor.
Make-ahead dish – you can bake the pork chops one day and serve one or two days later.
Freezer-friendly: bake the pork chops completely then place in a freezer-safe container and freeze for up to six months.
Nutrition
Serving:
4
servings
,
Calories:
431
kcal
,
Carbohydrates:
6
g
,
Protein:
38
g
,
Saturated Fat:
8
g
,
Cholesterol:
128
mg
,
Sodium:
677
mg
Post Updates: This post was originally published June 6, 2011, and on July 28, 2021, was updated with one or more of the following: step-by-step photos, video, updated recipe, new tips.
This post is part of the Top Ten Recipes of Last Year collection.
You'll love these pork chop recipes:
You can find all of our pork based recipes here, from Southern Pulled Pork to Slow Roasted Pork with Caramelized Onions.