Easy Black Bean Soup made with canned beans and pre-chopped mix of onions, peppers, and celery. Healthy dinner on the table in less than one hour!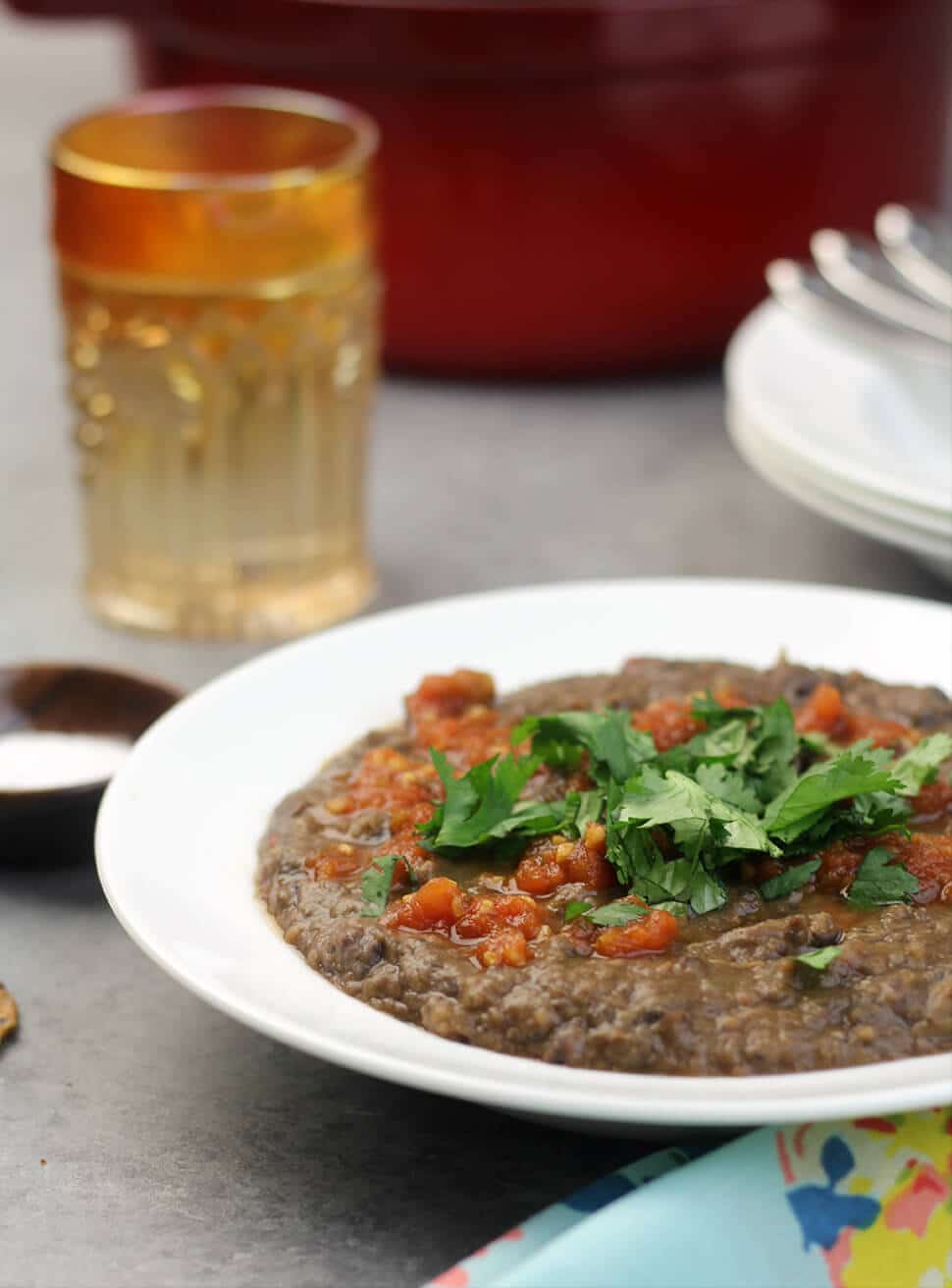 Do y'all remember when those round containers of Soup Starter mixes first came out? I imagine it was in the late 70s, early 80s. I used to beg my Mama to make soup from those mixes! Now I can't imagine why I wanted that stuff. Everything we ate was homemade so I think it was the novelty of having something from the store.
I wanted canned biscuits too, instead of homemade biscuits. Go figure. I was kind of weird.
Weird or not though, I do like to use some convenience products, especially produce that's already washed and chopped. I frequently buy those containers of chopped onions, bell peppers, and celery in the produce department, and I love the vegetable noodles.
If you're trying to feed your family quickly, sometimes it makes sense to stock up on a few of those conveniences early in the week—not having to spend 20 minutes chopping vegetables can make a big difference!
And yes, those pre-chopped vegetables cost a little more, but the time saved might be worth it—it definitely is to me!
How to Make Easy Black Bean Soup
I use canned beans for this easy black bean soup recipe, but of course you could use regular dried beans and soak them overnight and then cook them for a couple of hours. Totally negates the quick and easy part, but hey, whatever floats your boat.
If you want to stick with easy though, just drain the beans and rinse. Done.
The only thing I chop for this recipe is roasted red pepper. I like the flavor and they are soft and only take seconds to dice. Just use one or two from a jar of roasted red peppers and save the rest for another recipe.
Cook's Tip: Be sure you use the remaining peppers in a few days because they don't keep long once opened.
Saute pre-chopped onion, celery, and bell pepper in a large Dutch oven. Add the diced roasted red pepper, some garlic, chicken stock, red wine vinegar, a cup of Recaito (cilantro base), cumin, oregano, and salt and pepper to taste.
Stir in the beans, bring to a boil, then simmer for about half an hour.
YOU. ARE. DONE.
Cook's Tips:

How to Make Soup Thicker
There are multiple ways to thicken soups. You can start with a flour-based roux, or you can add a cornstarch slurry.
When you're making a bean soup, the easiest way to thicken the soup is just to puree some of the beans.
You can either use a potato masher or fork and mash them right in the pot, scoop some out into a blender, or my favorite way—use an immersion blender to puree the beans in the pot.
I like the immersion blender because you don't have to deal with scooping the hot soup in and out of the pot and blender, which has always seemed like a recipe for disaster to me!
What Goes with Black Bean Soup
So what do you serve with this slightly spicy black bean soup? I like to drizzle on a little salsa and sour cream, along with some fresh cilantro. You could add chopped avocado and diced red onion if you want to make a little more work for yourself.
I'm usually making this soup when I need to throw together something fast, so chopping anything extra is off the table for me in that case.
We typically just eat a bowl of this soup and some cornbread and call it good because it's a satisfying meal on its own. However, a simple green salad would fill it out nicely if you feel like you need something more.
And don't forget the fudge pie! You can have it in the oven and ready by the time the soup is done!
Easy Black Bean Soup
Easy Black Bean Soup made with canned beans and pre-chopped trinity mix of onions, peppers, and celery.
Ingredients
3

tablespoons

olive oil

1

cup

chopped onion

1

cup

chopped bell pepper

1

cup

chopped celery

2

teaspoons

minced garlic

½

cup

chopped roasted red pepper

4 15-

ounce

cans black beans, drained and rinsed

2

tablespoons

red wine vinegar

4

cups

chicken stock

1

cup

Recaito Cilantro base

2

tablespoons

ground cumin

2

teaspoons

dried oregano

Salt and pepper
Instructions
Heat olive oil in a large Dutch oven. Add onion, pepper, and celery and saute until getting tender. Add garlic and roasted red pepper. Stir and mix well.

Add beans, red wine vinegar, chicken stock, Recaito, cumin, and oregano. Stir and sprinkle in a little salt and pepper. Bring to a boil then turn down to a simmer and cook for half an hour, stirring frequently. Season to taste with additional salt and pepper.

To thicken soup, use an immersion blender and puree some of the beans.
Nutrition
Serving:
6
servings
,
Calories:
153
kcal
,
Carbohydrates:
12
g
,
Protein:
5
g
,
Saturated Fat:
1
g
,
Cholesterol:
4
mg
,
Sodium:
409
mg
,
Fiber:
1
g
,
Sugar:
4
g
More Soup Recipes You'll Love: