These easy homemade cinnamon rolls are full of cinnamon, vanilla, and butter and topped with an tasty cream cheese icing—make breakfast special anytime!
There are few things better to wake up to than the smell of a fresh pot of coffee and homemade cinnamon rolls in the oven…breakfast comfort food at its best.
Everyone in our family adores cinnamon rolls, except for Casey who hates all things cinnamon. I always make a few pans of chocolate chip sweet rolls for him…and of course, the rest of us devour those too!
I searched for an easy homemade cinnamon rolls recipe and tried several before I determined that this one was my favorite. This recipe comes from a Swedish baker named Carl Nelson, who offered his recipe to King Arthur flour. I don't use King Arthur flour, only White Lily, but I do like many of the KA recipes.
Carl's parents were born in Sweden and emigrated to the United States. He and his father operated the largest Swedish bakery in the West for years. I figured he has pretty good credentials and tried his recipe a few years ago. It's easy and the cinnamon rolls are soft and buttery and leave you yearning for more.
Easy Homemade Cinnamon Rolls
The best part about Carl's easy homemade cinnamon rolls recipe is that it is so simple—I had never made cinnamon rolls from scratch before I found this recipe and now I make them all the time. Although disclaimer: the recipe is easy but still a lot of work so be prepared!
You may also like…
Cinnamon Rolls without Yeast – homemade cinnamon rolls using my biscuit dough — doesn't have to wait to rise!
How to Make Cinnamon Rolls
Everything goes right into the mixer at almost the same time. Once everything is blended, the dough sits for a few hours until it rises. This is a fairly wet dough so don't be alarmed by the texture.
After the dough has doubled in size, take half and place on a lightly floured surface. Knead it a little before you start rolling just to work in a little flour and take away any stickiness. Only sprinkle the flour though so you don't add too much. Roll the dough out until you have about an 18 x 24 rectangle.
Now comes the fun part…take a bowl of melted butter, pour it on and slather it all over the dough. Cover right up to about half an inch on the long edge closest to you.
Sprinkle the cinnamon sugar filling all over the dough until it's well covered.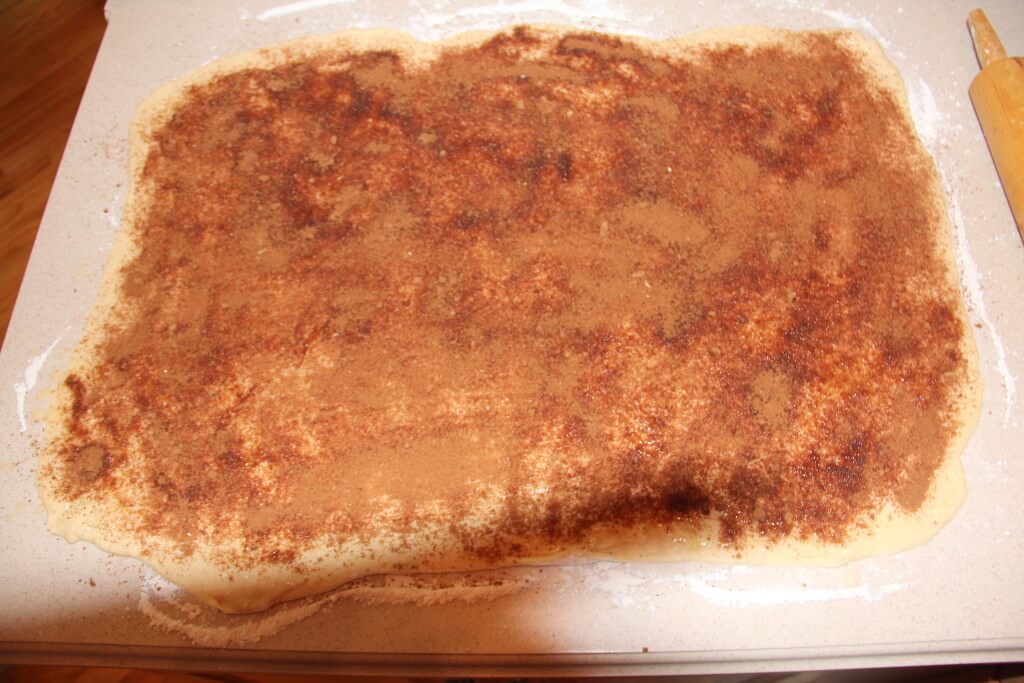 Beginning with the long edge furthest from you, start rolling. You want to roll pretty tightly so the rolls hold together. Once you get to the last edge, wet it just a little to seal to the roll.
Now flip the roll over so the seam side is down and cut 1 1/2 inch slices. Place each cinnamon roll into a buttered pan. I usually fit 6-8 cinnamon rolls in a pan, depending on size. Then cover lightly and let sit until almost doubled in size, 1 1/2 to 2 hours. At this point, you can cover the pans and freeze or go ahead and bake.
If freezing your cinnamon rolls, make the icing and freeze it in small bags so you'll have icing ready to go. One batch of icing covers all of these cinnamon rolls. I use portions measuring 1/4 cup plus 1 tablespoon.
This easy homemade cinnamon rolls recipe makes a large amount of cinnamon rolls, which is great because you can put some in the freezer for unexpected company. These also make great gifts. I like to have several pans in my freezer so I can offer some at a moment's notice. Enjoy!
Easy Homemade Cinnamon Rolls
Easy homemade cinnamon rolls that are filled with brown sugar and cinnamon and topped with cream cheese icing!
Ingredients
Dough:
2

packages active dry yeast

½

cup

lukewarm water

1

teaspoon

sugar

1

cup

butter, melted

2

cups

whole milk, slightly warmed

1

egg and 1 egg yolk, room temperature

2

teaspoons

vanilla

8 ½

cups

all-purpose flour

1 ¼

cup

granulated sugar

1

teaspoon

baking powder

2

teaspoons

salt

1

teaspoon

malted milk powder
Filling:
2

cups

light brown sugar

¼

cup

plus 2 tablespoons ground cinnamon

2

pinches

of salt

2

sticks butter, melted, for brushing on dough
Icing:
2 8-

oz.

packages cream cheese, softened

4

tablespoons

butter, melted

4

tablespoons

whole milk

3

teaspoons

vanilla

6

cups

confectioner's sugar, sifted
Instructions
Dough:
Add yeast to 1/2 cup of hot water (100-110 degrees) and sprinkle 1 teaspoon sugar on top. Stir and allow to stand undisturbed for about 10 minutes. If you don't see foam on top and the mixture has not multiplied then stop and get new yeast.

Pour yeast and water into bowl of stand mixture. Add butter, milk, egg yolks, and vanilla. Mix until blended and then stop mixer.

Add flour, sugar, baking powder, salt, and malted milk powder. Mix until dough is well blended and smooth. You may have to scrape off the beater a couple of times to get all the flour incorporated.

Once dough is well mixed, switch to dough hook and knead for 5-8 minutes on medium-high speed until dough is smooth and supple and begins to pull away from the bowl. If you don't have a mixer then knead it by hand for about 10 minutes.

Remove dough from bowl and place on a lightly floured surface and knead a couple of times, just to make sure it feels right.

Turn dough into lightly greased bowl, cover with plastic wrap and allow to rise in a warm place until doubled and puffy, about 2 hours.
Filling:
Mix brown sugar, cinnamon and salt together.
Assembly:
Remove half of dough from bowl and place on lightly floured surface. Knead a couple of times to get into a workable dough. Pat and roll dough into a rectangle about 18 x 24 inches.

Brush with 1 stick of melted butter, leaving 1/2 inch bare of the edge nearest you.

Sprinkle half the filling generously over dough, leaving the same 1/2 inch bare.

Starting with the long edge furthest away from you, roll dough into a log, finishing with the bare edge.

Brush this edge with water and seal to the outside of the log.

Measure 1 1/2 inch intervals and cut with a sharp serrated knife or paring knife.

Transfer rolls to greased pans, leaving about 1 inch between each roll. Brush the sides and tops of each roll with melted butter.

Cover loosely with plastic wrap and set aside in a warm place to rise for 1 1/2-2 hours.

At this point you can place the pans in the freezer and freeze. Once frozen, cover the pans tightly with plastic wrap and then aluminum foil.

If freezing, I usually mix up the icing and portion into small baggies and freeze along with the rolls. Use 1/4 cup plus 1 tablespoon per pan.

Remove rolls from freezer the night before and allow to thaw in the refrigerator, then allow to come to room temperature before baking. Or you can remove a couple of hours before baking and thaw on the counter.

Bake rolls in preheated 350 oven for 30 to 35 minutes until light golden brown. Remove from oven and allow to cool while you prepare the icing.
Icing:
Mix softened cream cheese, melted butter, milk, vanilla and confectioner's sugar until well blended.

Using 1/4 cup plus 1 tablespoon per pan, spread icing generously over tops and sides of each cinnamon roll.
Nutrition
Serving:
49
rolls
,
Calories:
305
kcal
,
Carbohydrates:
45
g
,
Protein:
3
g
,
Saturated Fat:
7
g
,
Cholesterol:
42
mg
,
Sodium:
129
mg
,
Sugar:
28
g
More Breakfast Recipes You'll Love: