Prosciutto Wrapped Chicken is everything you need a quick and easy meal to be: melted cheese draped over salty prosciutto wrapped around a succulent chicken breast. Comes together in minutes!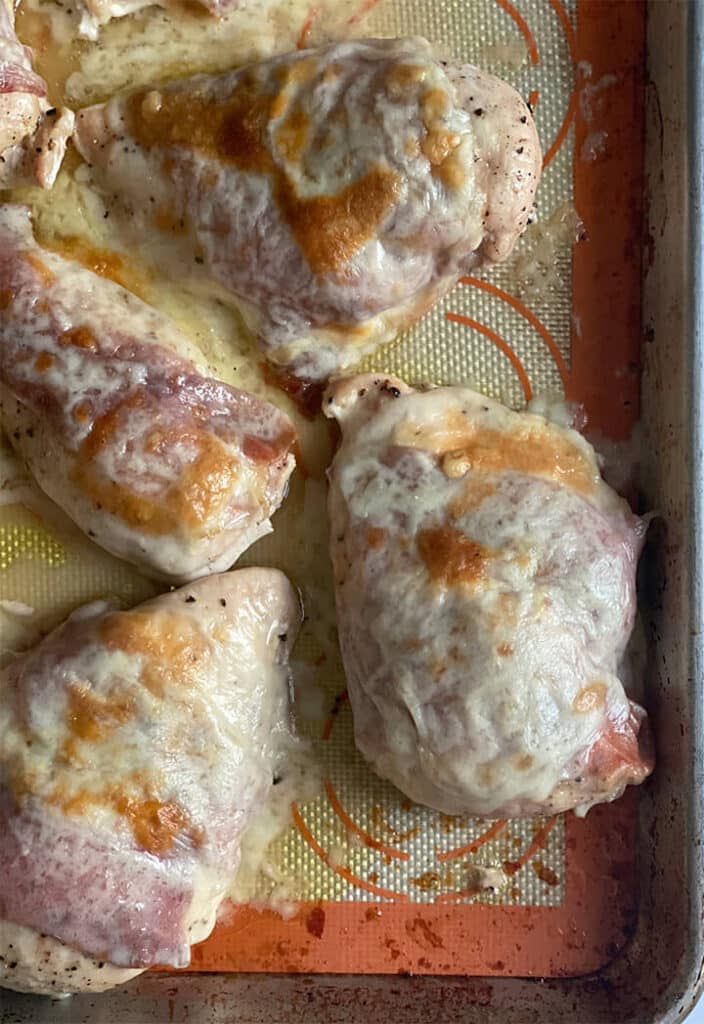 I should have titled this post The Easiest Chicken Recipe Ever because that's what it is! So simple, but bursting with flavor that sizzles inside your mouth leaving your taste buds salivating for more, more, one more bite.
Don't you love when that happens? When you bite into something that is intrinsically simple, yet renders you helpless to describe all the nuances of flavor—but if you're a food blog writer then you still must try:
Savory chicken, covered with a light drizzle of olive oil and a sprinkling of salt and pepper, roasted just long enough to barely cook through, then wrapped in a thin slice of salty prosciutto all covered with a sliver of provolone cheese that's melted to bubbling perfection in just five minutes.
Your family will love this and it's perfect for a quick dinner for guests as well!
Check out our Chicken Recipe Collection!
This is how this prosciutto wrapped chicken recipe came together...once upon a time, there were extra slices of prosciutto lying around, clamoring to be devoured. But one can only consume so much prosciutto/melon or prosciutto/provolone cheese.
Ahh, and there were also those slices of provolone cheese clamoring also. A literal cacophony in my refrigerator. And lest I forget, there were four chicken breasts already thawed, singing the melody of the restaurant special: Use me or toss me. And so.
How to make prosciutto wrapped chicken
Chicken + Prosciutto + Provolone Cheese = The Easiest Chicken Recipe Ever.
Step 1. Cook chicken.
Place chicken breasts on a parchment or silicone-lined baking sheet and drizzle with olive oil and salt and pepper.
Bake about 20 minutes, or less if your chicken breasts are thin.
Step 2. Wrap chicken.
Remove the pan from the oven and wrap each chicken breast with a slice of prosciutto. Drape a slice of provolone cheese over the prosciutto. Then bake 5-10 minutes more until the cheese is melted.
You can stick it under the broiler for a couple of minutes to get a little brown on the cheese.
Variations on prosciutto wrapped chicken
You can fancy it up, and that's what we're all prone to do: add some fresh herbs, or some Dijon mustard, or maybe even some spinach.
But then you've gone and veered into what might be The Second Easiest Chicken Recipe Ever, and in the immortal words of Sweet Georgia Brown, "Ain't nobody got time for that!"
Serving suggestions: try my Filipino Fried Rice or Roasted Green Beans.
Ingredients
4

chicken breasts, I use the 4 oz. Springer Mountain Farms for the perfect serving size

4

thin slices good quality prosciutto

4

thin slices provolone cheese

Olive oil

Salt and pepper
Instructions
Preheat oven to 400. Place a sheet of parchment paper on a baking sheet. Place chicken breasts on parchment paper. Drizzle chicken with olive oil and sprinkle with salt and pepper on both sides.

Bake chicken for 15-25 minutes, depending on thickness and size of breasts. Chicken should be almost fully cooked before you wrap it but don't overcook.

Remove pan from oven and wrap each breast in a slice of prosciutto, then drape a slice of provolone over the top.

Place pan back in oven and bake for 5 minutes, until cheese is melted and lightly browned.
Click here to save this recipe to your Pinterest board!
Nutrition
Serving:
4
servings
Calories:
260
kcal
Protein:
32
g
Saturated Fat:
6
g
Cholesterol:
96
mg
Sodium:
429
mg
Update Notes: This post was originally published August 26, 2015, and on August 19, 2020, was updated with one or more of the following: step-by-step photos, video, updated recipe, new tips.
More easy chicken recipes: