Stovetop Mac and Cheese—The water and milk that cooks the noodles also makes the sauce for the creamiest, cheesiest, EASIEST ONE-POT mac and cheese ever!
I've talked on this blog before about feeding my children the blue box of macaroni and cheese when they were growing up and you know what? I'm not ashamed of that at all! Because when you're a working parent of young kids, especially a single working parent, then you do what you need to do to get everybody fed.
One of my other go-tos was frozen fish sticks, but now I make this version of Easy Baked Fish Sticks and even grown-ups love them!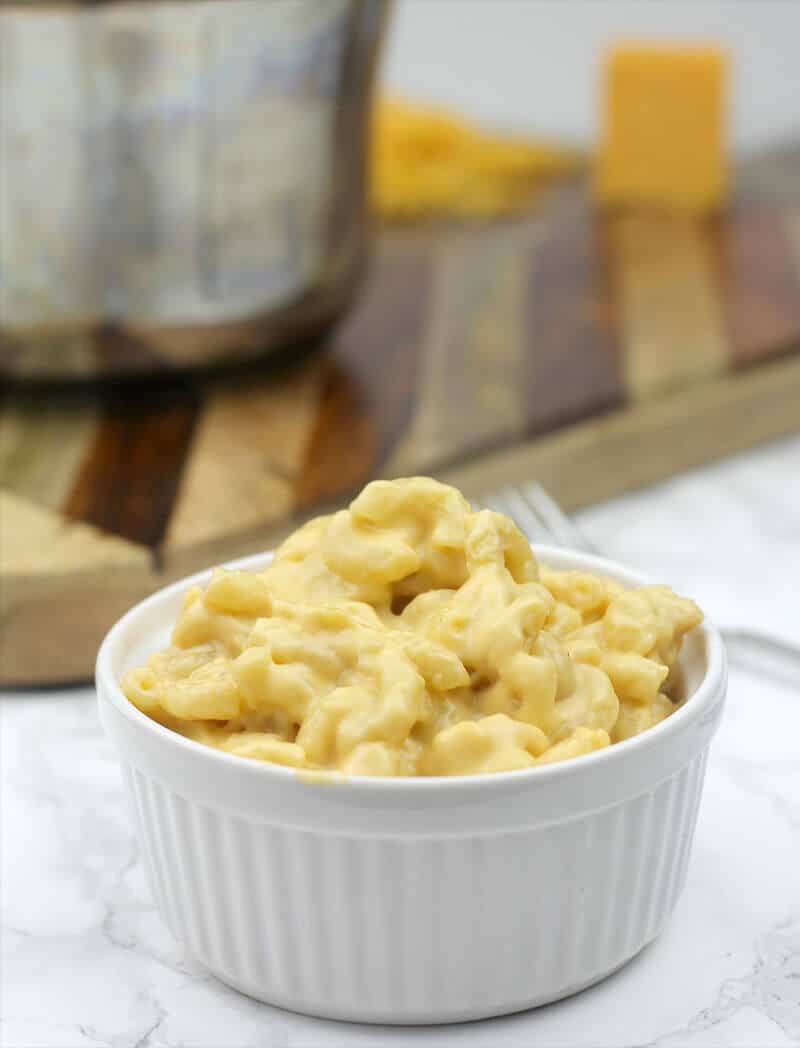 Last week, David and I were staying with Malorie for a few days while her husband was out of town. And even though there were two of us trading off with the two kids while she was at work, it was still a lot of work.
And when we threw cooking a homemade supper into that mix, I was amazed at how hard it really was.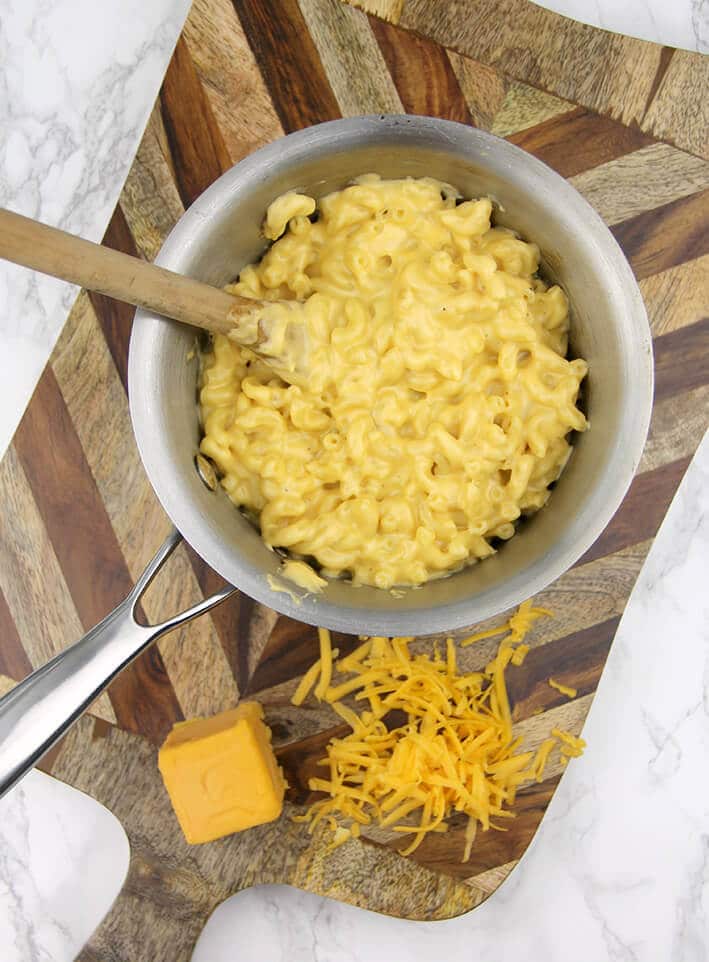 I've wanted to find a quick and easy alternative to the boxed mac and cheese for a long time, because although my family loves my Creamy Baked Macaroni and Cheese, it's a lot of work—and mega calories.
I wanted something easier and simpler that's maybe not exactly healthy, but at least not quite as unhealthy.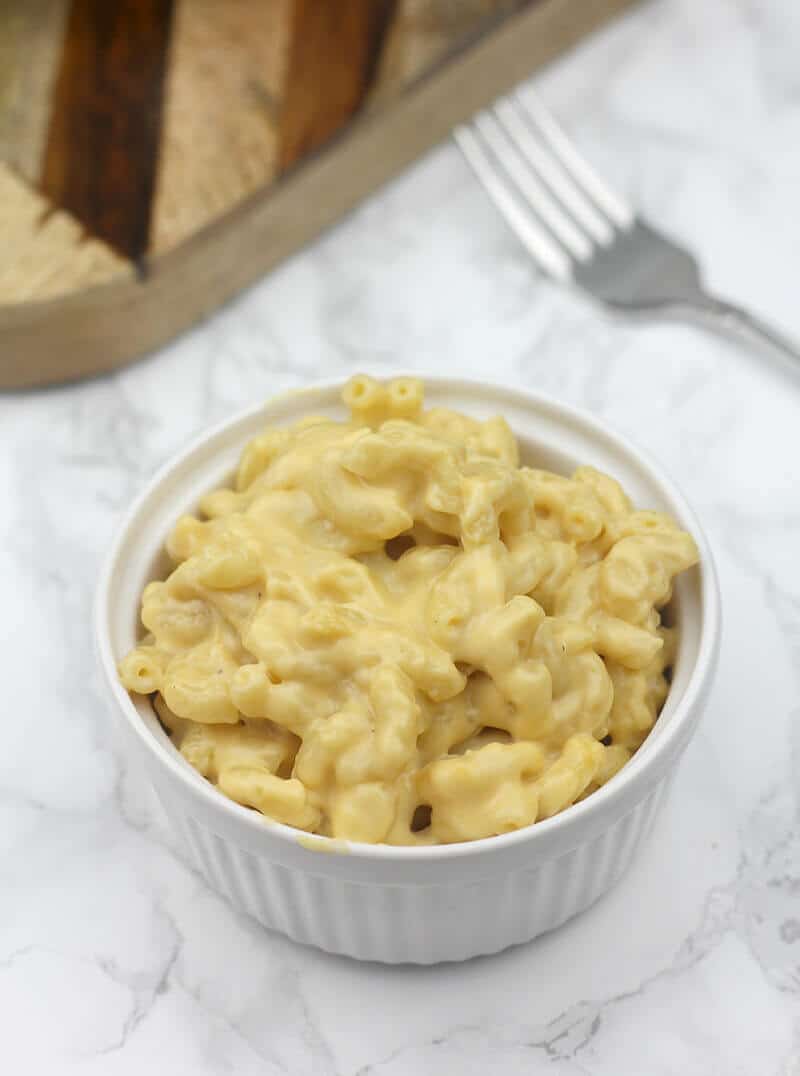 Most recipes I've run across for Creamy Stovetop Mac and Cheese are more complicated than I would like and just don't taste that good. So, when I saw a recipe in Cook's Illustrated that said you could make everything, including the noodles, in just one pot, I was sold.
I've changed the recipe a little because of course I had to add more cheese. And butter. But only a little. Try this and I promise you'll love not only how easy it is, but also how cheesy, creamy, and delicious!
Looking for gluten-free? Try this Gluten-free Mac and Cheese, a classic mac and cheese recipe that simply uses gluten-free flour and pasta.
You may also like…
Honey Mustard Chicken Tenders – these chicken tenders are great with this easy Stovetop Mac and Cheese!

Easy Stovetop Mac and Cheese
You'll need to pick up some American cheese from the deli for this recipe because that's what makes it so creamy. Don't try to get away with using the pre-packaged slices or you'll be disappointed in the result.
The key to this recipe is to use water and evaporated milk in one pot to cook the noodles. Once the noodles are cooked to al dente, instead of draining them, you'll just stir in the cheese until it melts. AND THAT'S IT!
The starchy milk and water from the noodles blends with the cheese to make the sauce so you don't need to add any extra steps or extra pots. See! I told you this would be the easiest mac and cheese ever!
Stovetop Mac and Cheese
Stovetop Mac and Cheese—This is the creamiest, cheesiest, EASIEST stovetop mac and cheese ever!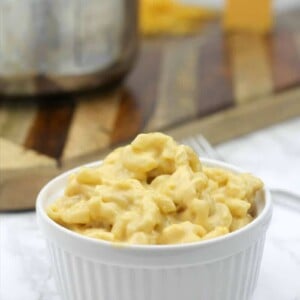 Ingredients
1

cup

water

1 12-

ounce

can full-fat evaporated milk

8

ounces

macaroni noodles

4

tablespoons

unsalted butter

1 ½

cups

shredded American cheese

1 ½

cups

extra-sharp Cheddar cheese

Salt and pepper
Instructions
Bring water and milk to a boil in medium pot over high heat. Stir in macaroni and reduce heat to medium-low. Cook, stirring frequently, until noodles are slightly more than al dente, about 8 minutes.

Stir in butter and American cheese until melted. Remove pot from heat and stir in Cheddar cheese until just mixed in, then cover the pot and allow to sit for 5 minutes.

Remove lid and stir macaroni until sauce is creamy and smooth. Season with salt and pepper to taste. Serve immediately.
Nutrition
Serving:
6
servings
,
Calories:
527
kcal
,
Carbohydrates:
35
g
,
Protein:
22
g
,
Saturated Fat:
19
g
,
Cholesterol:
101
mg
,
Sodium:
825
mg
,
Fiber:
1
g
,
Sugar:
7
g