Blackberry Cobbler is a perfect sweet and tart dessert, with an easy buttery crust over juicy blackberries. This is a classic, Southern favorite!
This blackberry cobbler is made almost the same as our strawberry cobbler and only slightly different from our peach cobbler. They are all from the same basic recipe with a few minor adjustments for flavor.
My blackberry cobbler recipe uses buttermilk instead of regular milk, and brown sugar, which makes a more tasty crust to complement the luscious blackberries.
You can really use any fruit—blueberries would be great as well!
This easy blackberry cobbler can be made ahead and served at room temperature or heated a little in the microwave. Or you can get it ready and bake it while you're having dinner and serve it hot with a scoop of vanilla ice cream. Either way, your family will love it!
How to make blackberry cobbler
Place blackberries in a saucepan with water, sugar, and thyme, bring to a boil, then simmer.
Melt butter in baking dish and mix up batter of flour, buttermilk, and sugar.
Pour batter into melted butter, then add berries and juice.
Bake blackberry cobbler until golden brown on top.
Tips and FAQs
You can use fresh or frozen blackberries. If using frozen, you'll need to allow the berries to thaw and drain the excess juice.
The blackberry cobbler can be baked in a 9×13-inch dish or a smaller, 9×9-inch dish. It depends on your preference for thickness. (I usually bake this cobbler in a 9×13-inch dish.)
You can melt the butter and then mix with the flour mixture and pour in the baking dish if you prefer.
Your Blackberry Cobbler should be golden brown on top and bubbling on the sides.
Does this cobbler need to be refrigerated?
No, not for a few days. I will usually let a cobbler sit on the counter for 2-3 days and then put in the refrigerator if there's any left at that point.
Can you freeze blackberry cobbler?
Absolutely! You can freeze it right in the baking dish. Cover the dish well with foil and place in the freezer for up to 3 months.
To serve, allow the blackberry cobbler to thaw overnight in the refrigerator. You can pull it out and serve at room temperature, or heat it in the oven or microwave.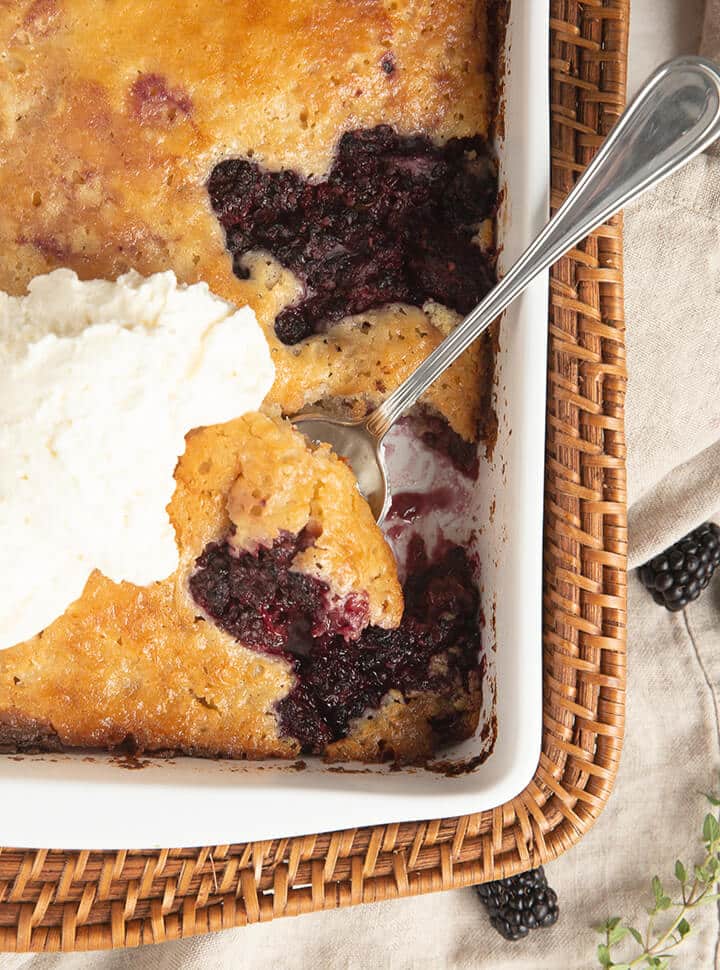 Special thanks to my friend Marianne of Basil and Bubbly for these blackberry cobbler photos!
Blackberry Cobbler
Blackberry Cobbler is a perfect sweet and tart dessert, with an easy self-made buttery crust over juicy blackberries. This is a classic, Southern favorite!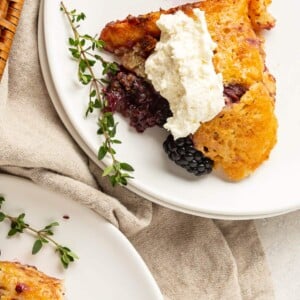 Ingredients
1

stick unsalted butter

5

cups

fresh or frozen blackberries, (if using frozen, thaw first and drain extra juice)

¾

cup

water

1

cup

granulated sugar, divided

1

sprig of fresh thyme

½

cup

light brown sugar

1

cup

self-rising flour (see notes for directions using all-purpose)

¼

teaspoon

baking soda

1 ¼

cup

whole fat buttermilk

1

teaspoon

vanilla extract

1

tablespoon

turbinado sugar
Instructions
Preheat oven to 350°. Melt butter in a 13×9 inch baking dish.

Place blackberries in a saucepan and stir in 1/2 cup granulated sugar with water. Add thyme and bring to a boil then turn down to simmer. Cook for 5 minutes and remove from heat.

Whisk together flour and baking soda, then add remaining 1/2 cup of granulated sugar and 1/2 cup brown sugar and whisk until well blended. Stir in buttermilk and vanilla extract.

Once butter is melted, slowly pour in batter over the butter but do not stir. Remove thyme from blackberries and discard, then gently spoon the blackberries and any accumulated juices over the batter and do not stir.

Sprinkle the turbinado sugar over the top then bake for 40-45 minutes until golden brown. Serve hot or room temperature with vanilla ice cream or homemade whipped cream.
Notes
If using all-purpose flour, whisk together:
1 cup all-purpose
2 teaspoons baking powder
1/4 teaspoon salt
** You can melt the butter and stir it together with the flour mixture, then add the berries. This changes the texture slightly but will still work and still tastes delicious!
Nutrition
Serving:
8
servings
,
Calories:
336
kcal
,
Carbohydrates:
53
g
,
Protein:
3
g
,
Saturated Fat:
7
g
,
Cholesterol:
33
mg
,
Sodium:
90
mg
,
Fiber:
4
g
,
Sugar:
37
g
Update Notes: This Blackberry Cobbler recipe was originally published May 31, 2014, and on June 14, 2020, was updated with one or more of the following: step-by-step photos, video, updated recipe, new tips.
For a different take on blackberries, try these Quick Pickled Blackberries on a crostini. 👌🏻
More Berry Desserts You'll ❤️: