Meatloaf Muffins are easy enough for weeknight dinner! These meatloaf muffins are made with classic meatloaf ingredients and baked in muffin pans for the perfect serving size.
Be sure to check out the short how-to video at the end of this post for tips on making Meatloaf Muffins. 
One of the simplest entrees you can make for supper is Classic Meatloaf. And it's versatile—you can use ground beef or ground turkey, and you can hide vegetables in there too—think spinach or ground carrots.
Meatloaf Muffins
Do y'all use your muffin pans for things other than muffins? I sure do. A regular muffin pan is just the right size for a serving of most things.
You can make egg muffins for breakfast, you can freeze oatmeal, or even bake muffin tin meatloaf.
I just use my classic meatloaf recipe, which I happen to think is the best meatloaf recipe, and the great thing is that baking the meatloaf in the muffin pan takes half the time as baking a loaf.
The meatloaf muffins are smaller so they get a little more brown and crispy around the edges. Even though I use the same recipe, my husband prefers the meatloaf cooked this way!
Did you eat meatloaf as a kid? For some reason, my boys were never big fans of it. Brian still won't eat it, but Casey loves these meatloaf muffins.
My mother probably made meatloaf 2-3 times a month because it was cheap and easy, so I didn't have much choice about eating it.
What Do You Need to Make Muffin Tin Meatloaf?
Well, for starters you need good muffin tins! I have some like these that are non-stick, but you can use regular muffin pans too.


Beyond that all you need are the regular old meatloaf ingredients:
Ground chuck or turkey
Onion
Green pepper
Eggs
Bread crumbs
Worcestershire sauce
Ketchup
Salt and pepper
Sauce
Ketchup
Brown Sugar
Yellow Mustard
How to Make Easy Meatloaf Muffins
Step 1.
Mix up the meatloaf as you normally would: meat, onion, pepper, egg, bread crumbs, ketchup all in a large bowl.
Don't mix too much or the meatloaf will be tough but mix well enough to blend everything.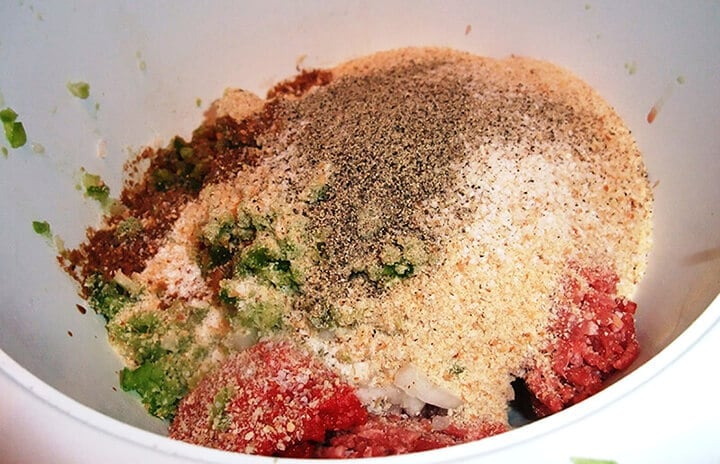 Step 2.
Scoop mixture into muffin pans. My muffin pans are non-stick, but I still spray the pan and then slightly overfill each muffin cup. I use an ice-cream scoop and put a heaping scoop in each muffin cup.
The meatloaf mixture will shrink down just a bit so you don't want to under-fill. I can usually get 18-24 meatloaf muffins out of one recipe batch.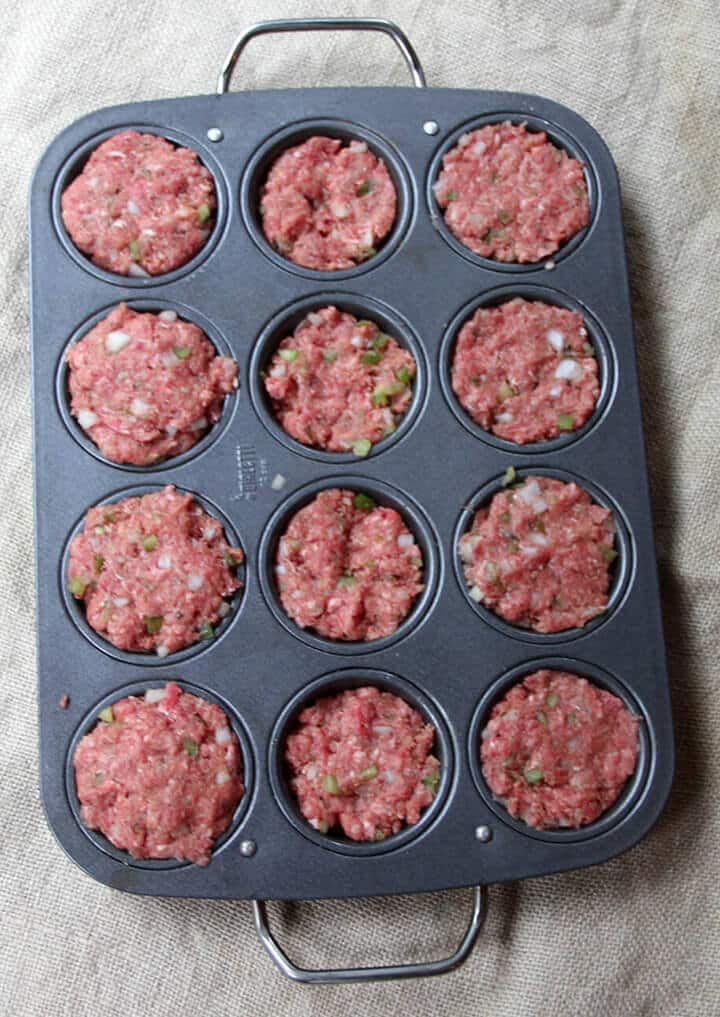 Step 3.
Bake!
Step 4.
Remove and brush with sauce. Then bake a few more minutes before taking the meatloaf muffins out of the oven.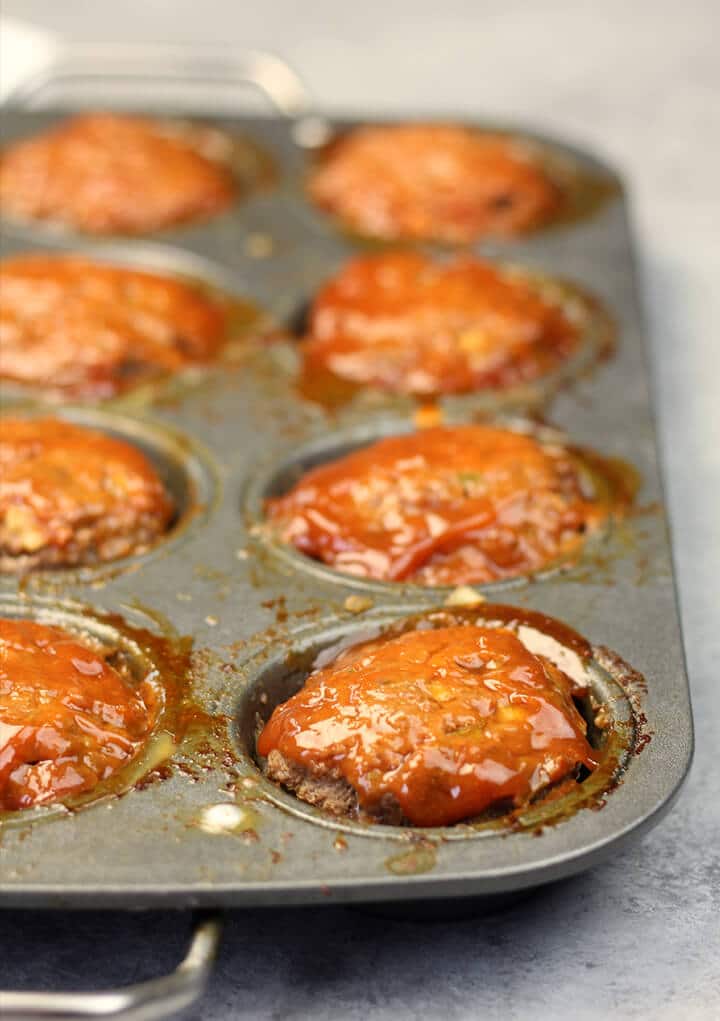 This meatloaf muffin recipe makes more than David and I can eat at one meal so I take the remaining meatloaf muffins and freeze them. Then we have muffin pan meatloaf anytime. Just thaw and reheat. So easy!
Tips for Freezing Muffin Tin Meatloaf
Place the meatloaf muffins on a baking sheet overnight in the freezer. The next day, put the frozen muffins in a bag and back in the freezer. I find this method keeps most of the sauce on the meatloaf. You'll lose a little bit to the bag but not much. And it's easy to make a little more sauce when you thaw out your meatloaf muffins anyway!
Watch this how-to video of the meatloaf muffin recipe!
---
Time Travel:
---
If you like Easy Meatloaf Muffins then you'll love these easy recipes:
---
Meatloaf Muffins printable – If you like this recipe, please leave a star rating on the recipe below by clicking on the 5 or 4 star! Thank you so much!
Print
Meatloaf Muffins
Meatloaf muffins—classic meatloaf with onions, peppers, eggs and seasonings baked in convenient, serving-size muffin pans.
Ingredients
1

lb

ground chuck

1

lb

lean ground beef

1

cup

finely chopped onion

1/2

cup

finely chopped green pepper

2

eggs

1

cup

bread crumbs

1

tbsp

Worcestershire sauce

1/2

cup

ketchup

1

tsp

salt

1

tsp

pepper
Sauce:
1/2

cup

ketchup

3

tbsp

brown sugar

2

tsp

yellow mustard
Instructions
Preheat oven to 350°. Lightly spray two 12-cup muffin pans with cooking oil.

Mix meats and other ingredients (except for the sauce ingredients) gently in a large bowl. You can saute the onions and green pepper in a little olive oil first if you want them to be completely tender. Place meatloaf mixture in muffin cups, mounding slightly above each cup. This recipe should fill about 18 muffin cups.

Place meatloaf in oven and bake for 25 minutes. While meatloaf is cooking, mix the sauce ingredients. After 25 minutes, remove muffin pans from oven and spread sauce on the top of each meatloaf muffin.

Bake for another 10 minutes and then remove from oven and let rest for fifteen minutes.
Recipe Notes
Leftover muffins will freeze nicely in a gallon-sized freezer bag. I freeze them on a baking sheet first, then put the frozen muffins in the bag.
Nutrition Facts
Meatloaf Muffins
Amount Per Serving (135 g)
Calories 315
Calories from Fat 126
% Daily Value*
Total Fat 14g 22%
Cholesterol 103mg 34%
Sodium 702mg 29%
Potassium 492mg 14%
Total Carbohydrates 22g 7%
Protein 22g 44%
* Percent Daily Values are based on a 2000 calorie diet.