Cube steak is the secret to quick, delicious meals. Learn how to cook it perfectly with this easy recipe and tips. Try it out tonight!
Do you need a quick and easy dinner recipe that everyone will love? Look no further than this simple cube steak recipe! It's a family favorite that takes less than an hour to make. The crispy breading and tender steak are sure to please both kids and adults alike. We love to cook ours by dredging it in flour and frying it in a skillet until it's golden brown and delicious. Plus, since cube steak is so tender, it's great for a weeknight meal. This dish is Southern comfort food at its finest.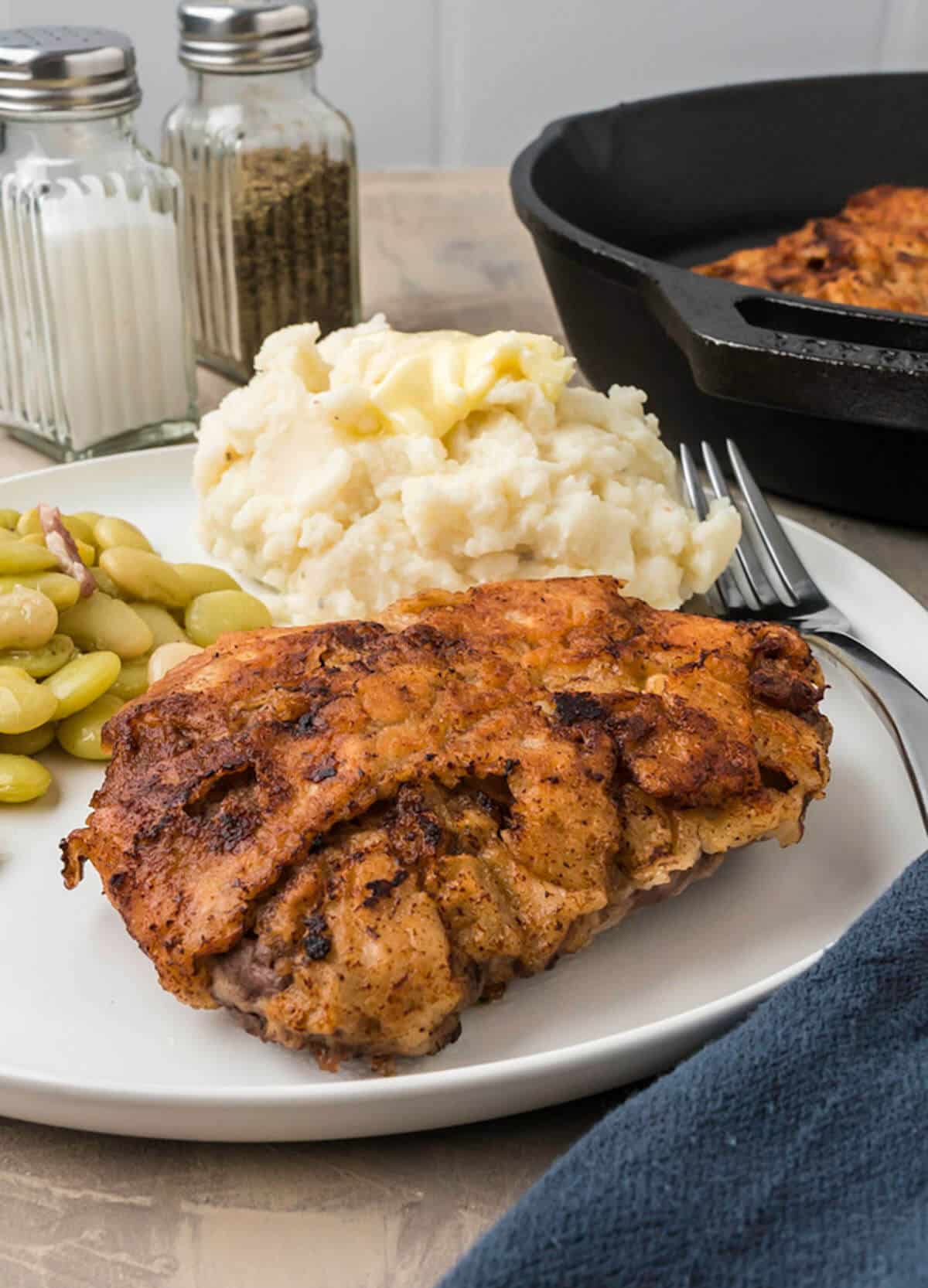 I had never heard of country fried steak or chicken fried steak until I moved to the city. If you live in the country, you don't cook things and call them country fried or chicken fried. They're just fried. And cube steak is just, well, cube steak. It's not even called fried cube steak because the frying part is understood.
But I guess somebody needed to fancy up the name so folks who had never had cube steak would know what they were eating. And so, I bring you country-fried steak also known as chicken-fried steak — or where I come from, cube steak. This easy recipe takes just minutes to prepare so you can have dinner on the table in a jiffy!
What is cube steak?
Cube steak is an inexpensive cut of beef that comes from the top or bottom round of beef, which is typically a tough cut of meat. To make it tender, the butcher will pound and flatten the meat with a meat mallet. You can also do it yourself using a mallet and a bit of meat tenderizer. Cube steak may also be known as minute steak because it cooks so quickly and cuts easily.
Note – as a communications major, it does bug me that most people say cube steak instead of cubed steak, which seems more correct. But tradition wins out, so here we are.
Ingredients and tools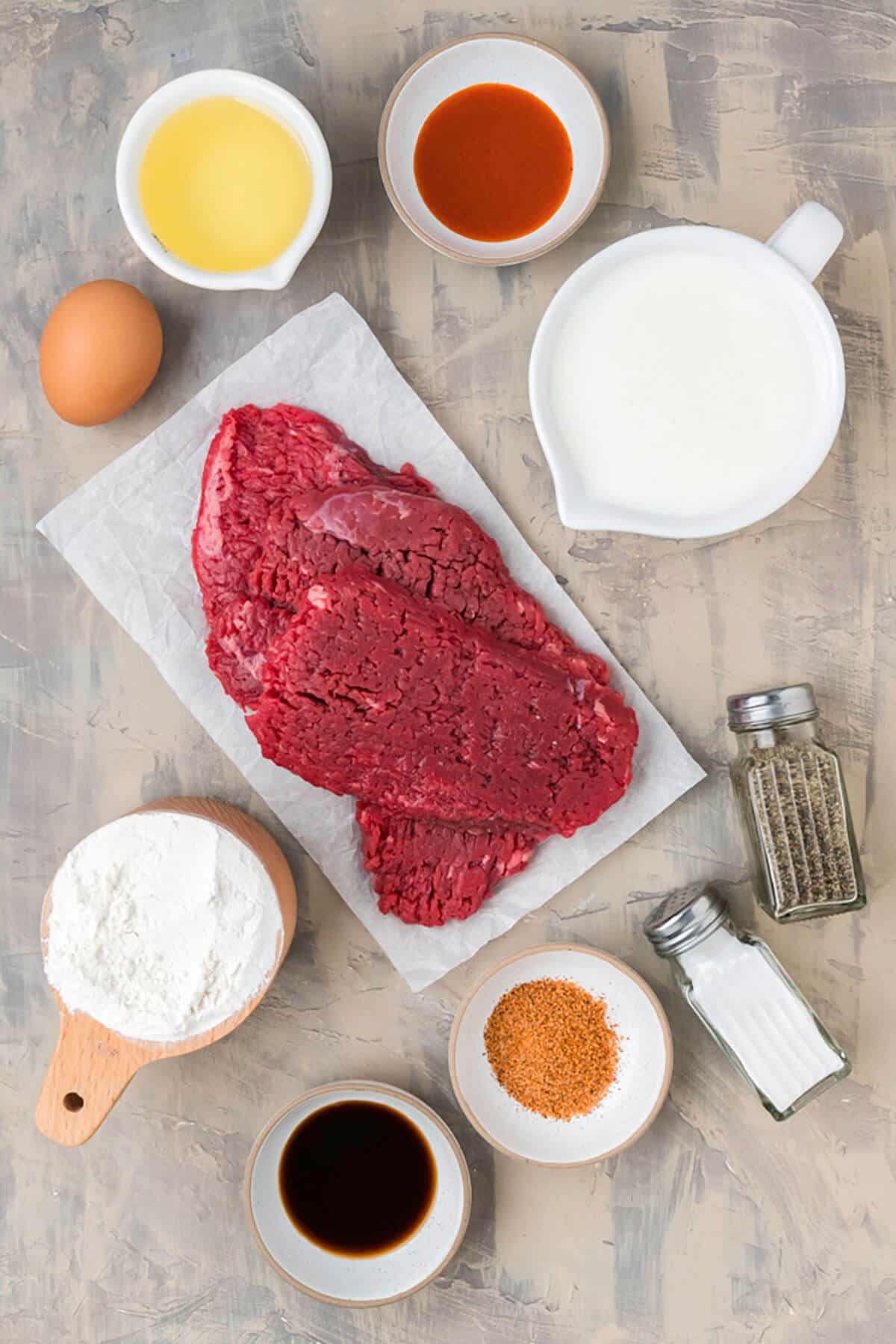 Please see the printable recipe card at the bottom of this post for full ingredient amounts and instructions.
Vegetable oil – you can use solid vegetable shortening or lard if you want to go old school. Don't use olive oil for this recipe.
Cube steak – if you can't find cube steak in your grocery store, you can buy round steak and ask the butcher to tenderize it.
Flour – all-purpose flour is fine
Tony's seasoning – this is personal preference. You could use a little garlic powder or even just salt and black pepper
Buttermilk
Egg
Hot sauce – any brand is fine.
Worcestershire sauce
Salt and black pepper – watch the salt if you're using other seasoning like Tony's
Large cast iron skillet
Baking sheet
Pie Plates
Substitutions and variations
You could substitute a pounded and cubed chicken breast for the beef if you prefer.
An alternative to frying in oil is this Air Fryer Country Fried Steak recipe.
Another alternative would be this Crock Pot Cube Steak recipe, although I think you might lose a little crispiness with this one.
Play around with the seasonings. You could easily make Nashville Hot Country Fried Steak with a little cayenne pepper and paprika and a drizzle of honey.
Pin this now to save it for later
How to cook cube steak
Note: An alternate way of cooking cube steak, and the way we had it most of the time when I was growing up, is to skip the milk and egg mixture and just lightly flour the steak and fry it. That's also how we cooked pork chops and pieces of cut round steak that weren't cubed. On a super busy weeknight, that's the way to go! But my family prefers the extra breading that comes with dipping in the milk and egg so that's how I usually do it.

Step 1. Make an assembly line with a baking sheet, two pie plates, a large skillet, vegetable oil, and a paper-towel lined plate. I also like to have whatever sides I'm serving with the steak ready to go so we can eat as soon as the steak is done.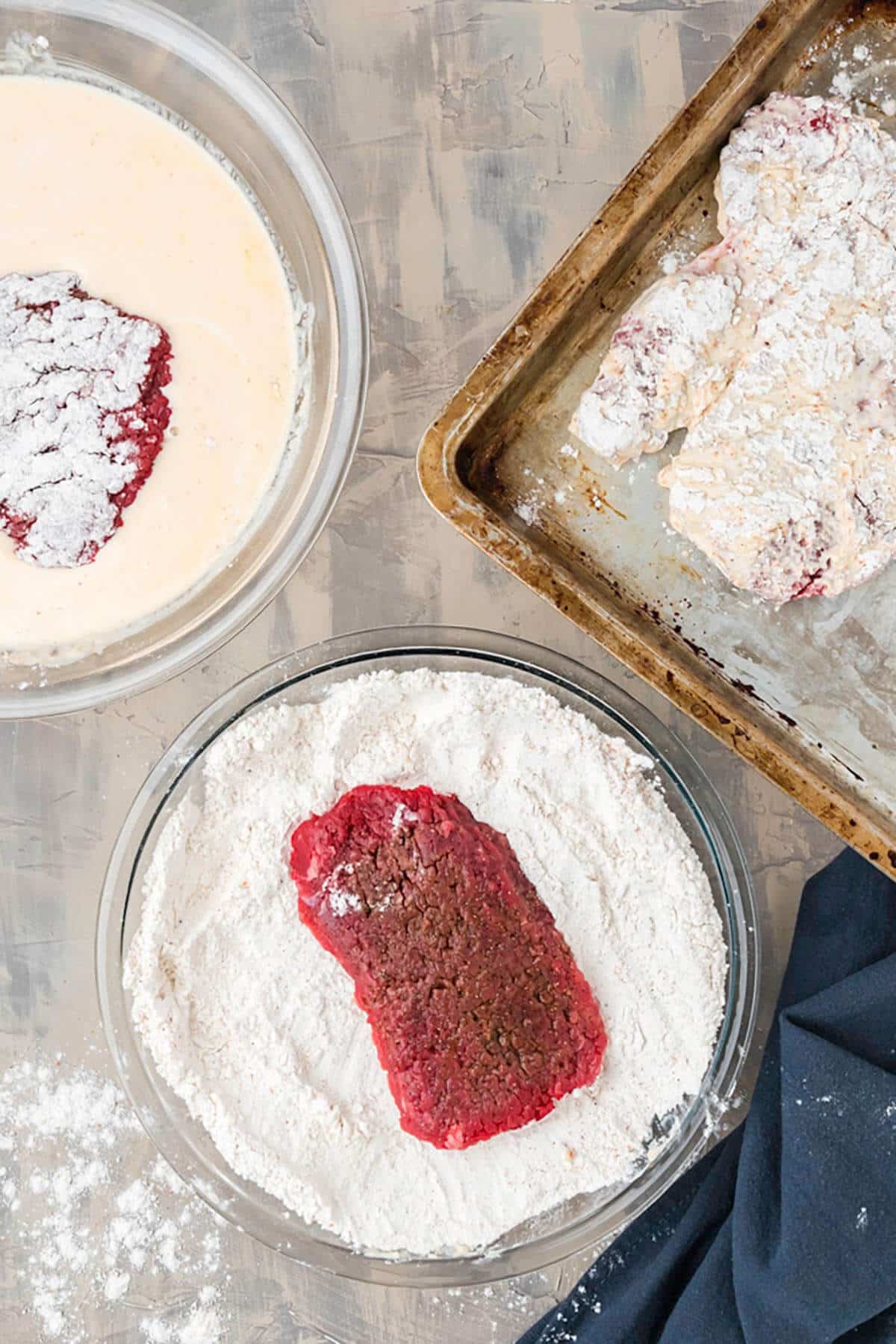 Step 2. Place about two cups of flour in a pie plate and add some Tony's seasoning or just salt and pepper. In another pie plate, stir an egg and half a tablespoon of hot sauce into about two cups of buttermilk. Place cube steaks on the baking pan and sprinkle with salt and pepper and a little Worcestershire sauce.
Step 3. Dip the steaks in the flour mixture, then buttermilk, then again in the flour. Place the steaks back on the baking pan. You can also double this and start by dipping the steaks in the buttermilk, then flour, then milk again, then flour again. That's a little much for me, but whatever floats your boat.
Pro Tip: I like to have my oil heating while I'm dipping the steaks. You can use vegetable oil, canola oil, peanut oil, or even shortening. The oil should be about half an inch in the skillet, just enough to slightly come up the sides of the steak but not to cover it. Heat on medium-high heat until it sizzles if you drop in a sprinkle of flour or water.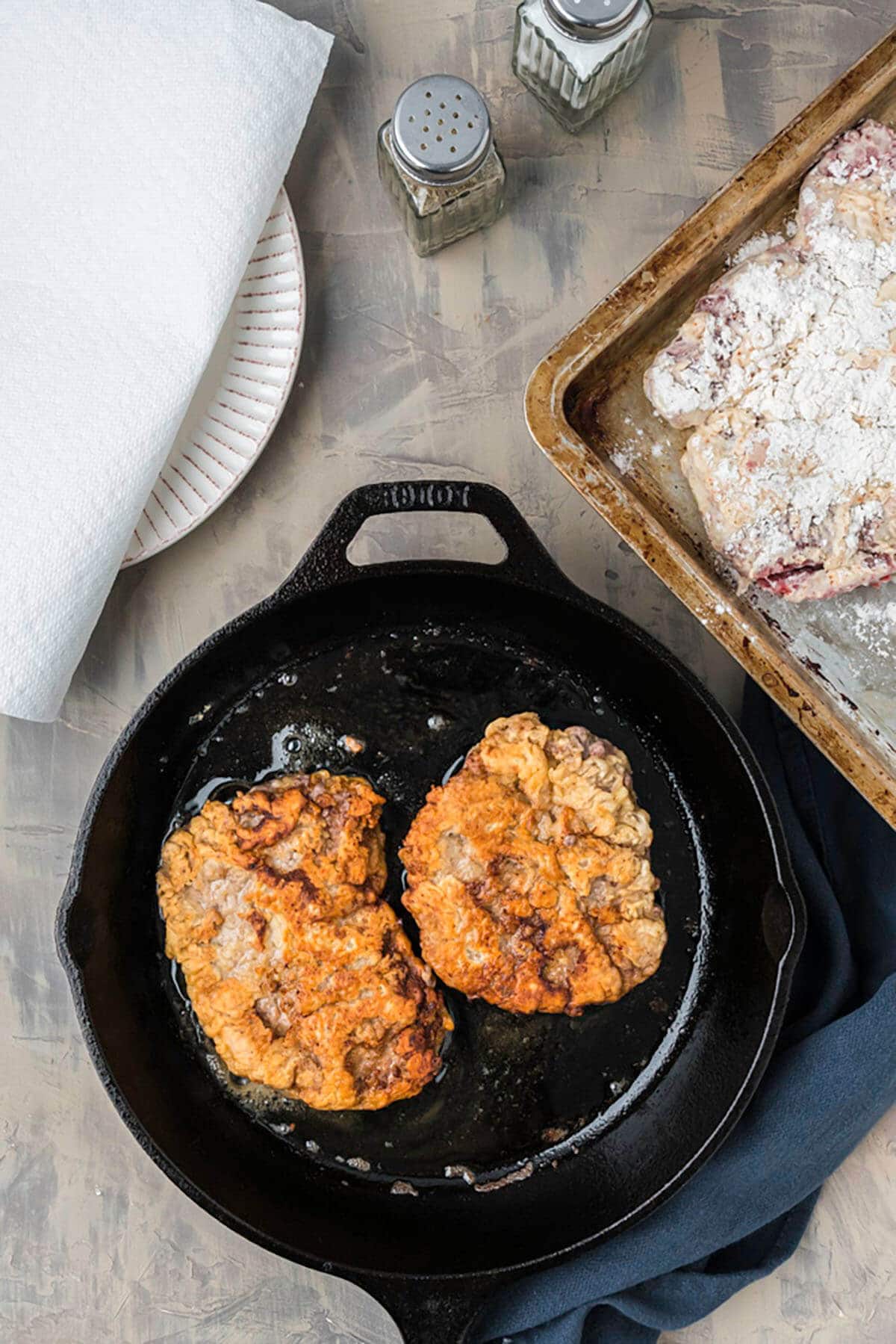 Step 4. Carefully lay each piece of steak in the hot oil in the skillet. Fry until each side is deep, golden brown, 3-4 minutes per side. You will probably need to turn the heat down a little as you cook. Remove steak to a paper-towel lined plate and serve immediately.
Serving suggestions
A delicious meal that the whole family would love would be this easy cube steak recipe along with creamy mashed potatoes, butterbeans, and, of course, biscuits. Best comfort food! Or you could serve green beans, macaroni and cheese, or rice. Most folks will also say you must have gravy but I can't help you with that. My gravy is pitiful so I won't even try to include it here. About the best I can do for you is suggest a cream of mushroom soup and onion soup mix gravy!
I don't suggest freezing the cooked cube steak because you'll lose the crispiness. However, you can store in an airtight container for a couple of days in the refrigerator and enjoy leftovers.
Heat the leftovers either in the air fryer or the oven for best results.
Cube Steak Recipe
Cube steak is the secret to quick, delicious meals. Learn how to cook it perfectly with this easy recipe and tips. Try it out tonight!
Ingredients
¼

cup

vegetable or canola oil

2

lbs.

cubed round steak

2

cups

flour, plus more if needed

2

teaspoons

Tony's seasoning

2

cups

buttermilk, plus more if needed

1

egg

½

tablespoon

hot sauce

½

tbsp

Worcestershire sauce

Salt and pepper
Instructions
Make an assembly line with a baking sheet, two pie plates, and paper towel lined plate.

In one pie plate, add the flour and Tony's seasoning and a little black pepper.

In the other pie plate, add the buttermilk and gently whisk in the egg and hot sauce.

Sprinkle steaks with salt, pepper, and Worcestershire.

Dredge steaks in flour, then dip in buttermilk mixture, then dredge in flour again. Or if you want even more breading, start by dipping in the milk, then flour, then milk again, then flour again. You may need to add more flour and/or more milk to your pans. Lay steaks on baking sheet.

Heat oil on medium in a large cast-iron skillet. When oil is hot, place two to three pieces of steak in skillet and fry each side until golden brown, 3-4 minutes per side.

Remove steaks and place on a paper-towel lined plate. Serve immediately.
Nutrition
Serving:
4
servings
,
Calories:
763
kcal
,
Carbohydrates:
54
g
,
Protein:
63
g
,
Saturated Fat:
7
g
,
Cholesterol:
197
mg
,
Sodium:
336
mg
,
Fiber:
2
g
,
Sugar:
6
g
Update Notes: This Cube Steak recipe was originally published May 21, 2014, and on April 3, 2023, was updated with one or more of the following: step-by-step photos, video, updated recipe, new tips.