Pickled Shrimp is a simple shrimp recipe that you can serve as an appetizer or as a main course. With an overnight marinade in pickling spice, this pickled shrimp recipe is make-ahead and healthy!
When I throw a dinner party, the entree is usually the main event, especially if it's something like Braised Beef Short Ribs or my Lasagna without Ricotta.
Sometimes the dessert is the star of the show, like my Homemade Banana Pudding or Chocolate Cake. And that's when it's important to plan the rest of the meal accordingly, which is why I love this Pickled Shrimp recipe.
You don't want to have a super-heavy, cheesy appetizer like Pimento Cheese and Chorizo Queso Fundido if you're going to have a hearty meat dish, and you also don't want to serve a heavy main course with a big dessert.
It's all about balance!
Simple Shrimp Recipes
If you're wanting to serve shrimp for your party, but not sure exactly what you want to do, I suggest keeping it simple.
While I love this Pickled Shrimp recipe because it's completely make-ahead, you could also go with an easy shrimp cocktail—which you can usually pick up already plated at your local grocery store.
Just transfer the shrimp and cocktail sauce to a pretty platter, line it with leafy green lettuce, and call it good! It doesn't get easier than that and most people love shrimp cocktail.
Marinated Shrimp Appetizer
Pickled Shrimp is a mainstay in Southern cuisine, and there are about as many versions as there are versions of Pimento Cheese. I like this recipe because it's easy and the only real work involved is slicing some onions.
The recipe came from my friend Molly, of Molly's Famous Blueberry Pie, who got it from her friend Helene.
We have been serving this version of Pickled Shrimp for many years, and it's almost always the first dish to disappear at a party!
How to Thaw Frozen Shrimp
I'm going to let you in on a little secret: most likely, the "fresh" shrimp you're buying at the grocery store was actually frozen and then thawed by the folks at your fish counter.
Yep. True story.
When shrimpers out in the ocean catch shrimp, they quickly toss the shrimp into ice, freezing the fresh shrimp almost immediately. So unless you actually live at the beach where there's a fish market that takes in fish and shrimp right off the boat, you're usually better off grabbing shrimp from the freezer when you go to the store.
You can read more about the shrimping process here.
As far as thawing, the FDA would probably tell you to thaw overnight in the refrigerator. But if you're like me, you might not have planned that far ahead.
So for a quick thaw, place your shrimp in a colander and then put the colander in a bowl of cold water and allow it to sit for about 10 minutes.
Then if the shrimp is still frozen, empty that water and replace it with fresh cold water for another 10 minutes. Continue this process until the shrimp is thawed, usually in just a few minutes.
Pickled Shrimp Ingredients
2 lbs. cooked, frozen shrimp with tails on
1.5 ounce bottle of pickling spice
3-4 small white onions, sliced
1/2 cup white vinegar
1/2 cup canola oil
1/2 cup granulated sugar
Salt, pepper, garlic powder, Worcestershire sauce
How to Make Pickled Shrimp
Step 1. In a medium saucepan, bring the sugar, vinegar, and oil to a boil, then remove the pot from heat and allow to cool.
Step 2. In a large sealable container, layer half the shrimp and cover with half the onions. Sprinkle all over with salt, pepper, garlic powder, pickling spice, and a few dashes of Worcestershire sauce.
Step 3. Repeat layering and then pour the vinegar mixture over the shrimp and cover tightly with a lid.
Step 4. Place in the refrigerator to marinate for at least 24 hours, turning the container upside down occasionally to shift the shrimp and seasonings around.
Step 5. Remove the pickled shrimp from the marinade and serve on a large platter lined with lettuce.
That's it! So easy and yet it's impressive and your guests will devour this shrimp, I promise!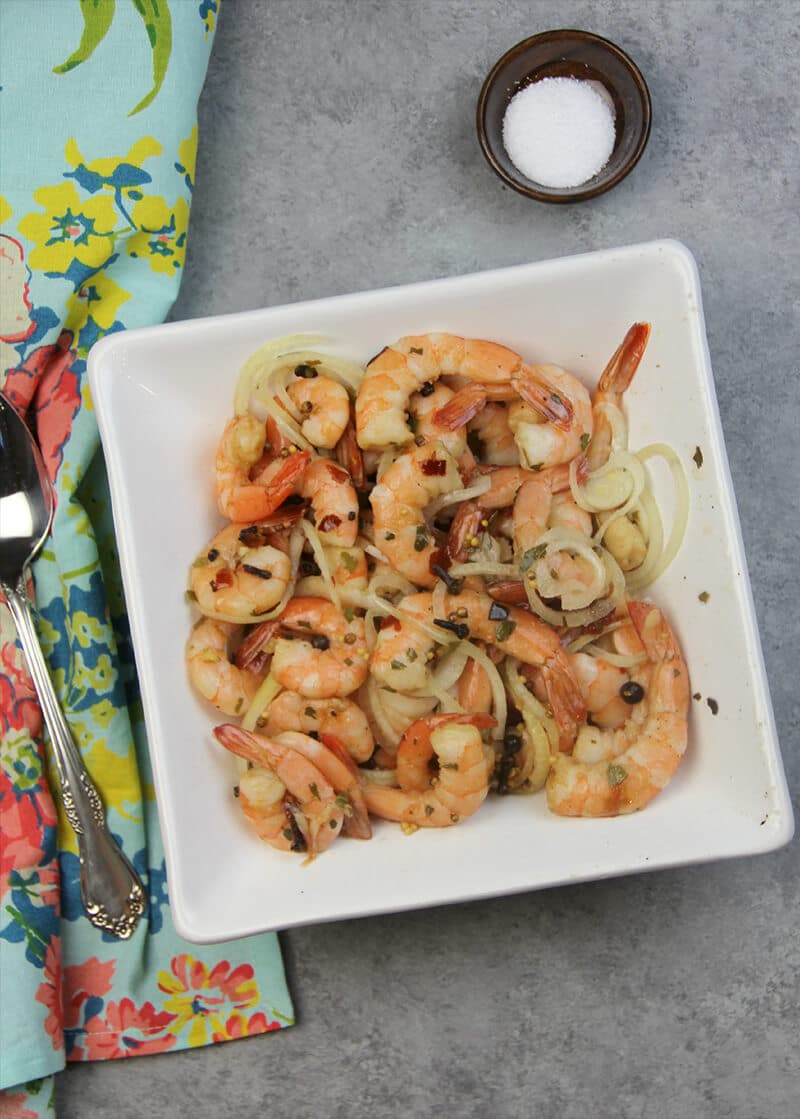 Other Uses for Pickled Shrimp
While we typically serve Pickled Shrimp as an appetizer, you could also combine the shrimp with orzo to make a delicious salad, or just serve as is alongside some marinated vegetables or a large green salad for an easy lunch.
Pickled Shrimp
Pickled Shrimp is a simple shrimp recipe that you can serve as an appetizer or as a main course.
Ingredients
½

cup

granulated sugar

½

cup

white vinegar

½

cup

canola oil

2

lbs.

frozen cooked shrimp with tails, thawed

3

small white onions, sliced

1.5

ounce

bottle pickling spice

Salt

Pepper

Garlic Powder

Worcestershire sauce
Instructions
Use a large sealable container.

In a medium saucepan, bring the sugar, vinegar, and oil to a boil. Remove from heat and allow to cool.

Layer half the shrimp and cover with half the onions. Sprinkle all over with salt, pepper, garlic powder, pickling spice, and a few dashes of Worcestershire sauce. Repeat layer, then pour the vinegar mixture over the shrimp and cover tightly with lid. Place in refrigerator.

Marinate for at least 24 hours, turning the container upside down occasionally.

Remove shrimp from marinade and serve on a large platter lined with lettuce
Nutrition
Serving:
10
appetizer servings
,
Calories:
255
kcal
,
Carbohydrates:
16
g
,
Protein:
19
g
,
Saturated Fat:
1
g
,
Cholesterol:
228
mg
,
Sodium:
709
mg
,
Fiber:
1
g
,
Sugar:
11
g
Here are some more great shrimp recipes you'll love:
Broiled Shrimp with Vegetables and Sriracha Sauce