Beef Enchiladas are made with ground beef and are so easy you can make them on a busy weeknight. These are freezer friendly and a perfect make ahead dinner!
We love Mexican food here in our Southern kitchen. Like Italian, Mexican food is diverse enough that there's usually something for everyone. If you don't eat meat then you can order a cheese burrito. If you don't want vegetables you can order just beef or chicken enchiladas. It works out great for our family because we have a lot of eaters with different preferences.
You may also like…
Homemade Taco Seasoning – tastes better than store-bought!
This beef enchilada recipe adapts well to freezing and making ahead. You could brown the beef and make the enchilada sauce on Sunday and have it ready to put together during the week for a quick weeknight dinner. Or you could make the whole dish ahead and pop it in the freezer. Either way, it's a great family meal.
You need ground beef, onion, jalapeno, garlic, and fresh cilantro. And you need this homemade enchilada sauce. Or you can use canned. But trust me, the homemade is so much better.
How to Make Beef Enchiladas
Heat a little olive oil in a large skillet and cook the onion, jalapeno, and garlic for a few minutes until softened. Add the beef and brown well then drain.
Stir in about a 1/4 cup chopped cilantro. Then start the tortillas. Dip each tortilla in sauce and fry for a few seconds on each side.
You can fry each tortilla and lay them on a plate and assemble the enchiladas once you're done.
Place a heaping tablespoon of ground beef in the center of each tortilla, add a little grated Cheddar cheese, fold the tortilla together and place seam side down in the pan.
Drizzle a little more sauce over the top then sprinkle with cheese. I like to use grated Monterey Jack and Mexican crumbling cheese but you could use Cheddar or whatever your family likes.
At this point, you can cover and set aside. When you're ready, just heat the enchiladas in the oven until the cheese is nice and melted.
When you take them out of the oven, sprinkle a little chopped cilantro on the top and serve with your favorite toppings: chopped avocado, chopped green onions, sour cream, or chopped tomatoes.
Beef Enchiladas
Beef enchiladas are easy to make and a great way to feed your family on a crazy week night.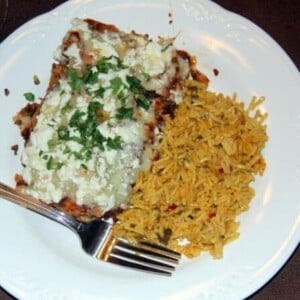 Ingredients
2

cups

Enchilada sauce, homemade or canned

12

corn tortillas

1

cup

grated Cheddar cheese

1

cup

grated Monterey Jack cheese

1

cup

crumbled Mexican crumbling cheese
For Beef:
2

lbs.

lean ground beef

1-2

tablespoons

olive oil

1

onion, finely chopped

1

jalapeno, seeded and finely minced

3

cloves

garlic, finely minced

¼

cup

chopped cilantro
Instructions
Heat olive oil in large skillet. Add onion, garlic, and jalapeno. Cook until softened, about 5 minutes. Add beef and cook until browned. Drain beef mixture if needed.

In clean non-stick skillet, heat a teaspoon of oil on medium-high heat. Dip each tortilla in sauce and fry in skillet for 3-4 seconds on each side. Set cooked tortillas aside on a plate.
Assembly:
Place a heaping tablespoon of ground beef in center of each prepared tortilla. Add a generous sprinkling of Cheddar cheese. Fold tortilla together and place seam side down in baking dish.

Drizzle tortillas with a little extra enchilada sauce.

Cover tortillas with grated Monterey Jack cheese and Mexican crumbling cheese.

You can set the dish aside in the refrigerator at this point and bake when ready to serve.

Bake at 350 for 20-30 minutes, until cheese is melted and enchiladas are heated through. Serve with your favorite toppings: chopped fresh cilantro, chopped green onions, chopped avocado, chopped tomatoes, sour cream.
Nutrition
Serving:
6
Servings
,
Calories:
389
kcal
,
Carbohydrates:
32
g
,
Protein:
18
g
,
Saturated Fat:
11
g
,
Cholesterol:
54
mg
,
Sodium:
1066
mg
,
Fiber:
5
g
,
Sugar:
7
g